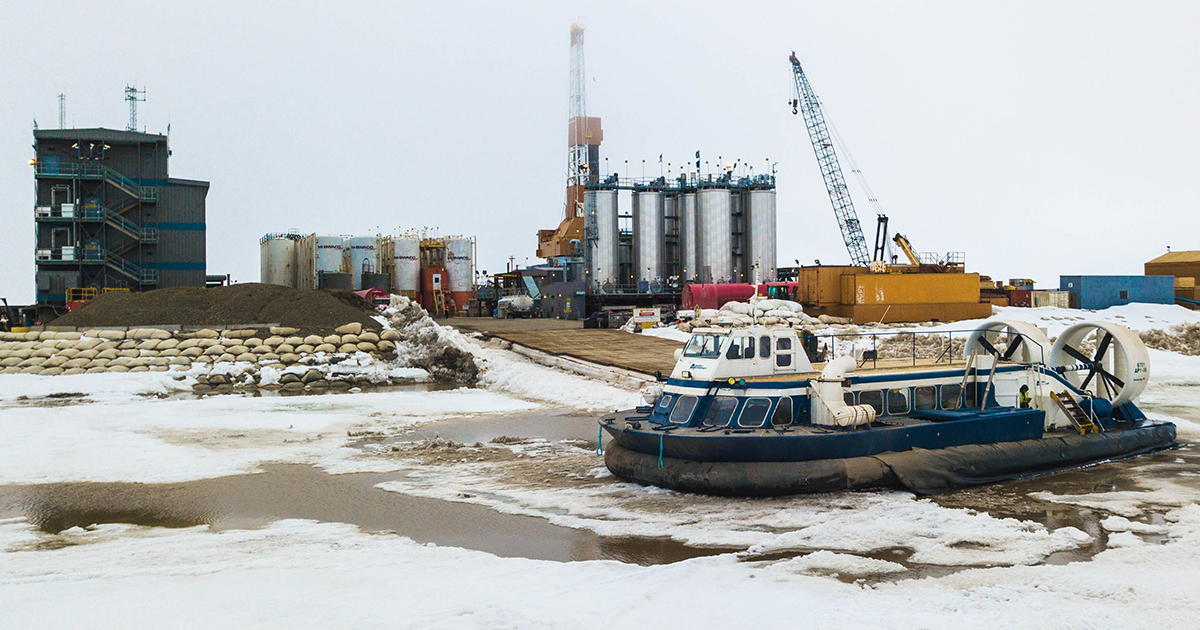 Imagine working 46 days each year in zero visibility. Now imagine being responsible for safely transporting people and freight in these conditions. For the professional mariners working on Lynden's Bering Marine hovercraft team, it's all part of the job. Five times each day, they load up the AP-188 hovercraft with 60 ENI Petroleum employees and safely transport them roundtrip from Prudhoe Bay to Spy Island, a drill site near Oliktok Point, AK. Six Bering Marine captains and deck hands support the project which also includes hauling freight for ENI and operating as a medivac standby vessel.

"Our ENI partnership is a highly successful operation," says Port Engineer Steve Isaacs. "Over the past decade we've made over 5,000 trips to the Spy Island drill site, carrying over 50,000 passengers and over 20 million pounds of freight. We've been able to prove the value and reliability of this type of vessel in this environment. It's hard to compete with a machine like our hovercrafts".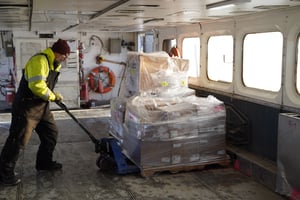 While the North Slope crew is hard at work in Prudhoe Bay, another three members of the hovercraft team are in Bethel delivering mail and essential freight to remote villages in the western part of Alaska. This service, which began in the 1990s, provides delivery to villages on the Kuskokwim River throughout the year. The winding river presents its own challenges with traffic from snow machines in the winter and boats in the summer.

Captain Paul "Duke" Bischoff spent 15 years in the Navy's hovercraft program before joining Lynden. "I really enjoy operating this type of craft because of the special challenges while maneuvering over land and ice, as well as the frequent high-wind situations we get in the arctic," he says. "Combined with the changing conditions at our landing site during the ice formation and breakup, you have an operation that definitely keeps you on your toes."

From September to February, the six members of the hovercraft team are the only mariners on the entire North Slope. "No other merchant marine works in the arctic that time of year," Steve explains. "Our hovercraft team serves as the medivac and lifeline for emergency situations in subzero temperatures."

A few years ago, the team started a spring cleanup program, using the unique capabilities of the hovercraft to pick up ice road debris during breakup. "Our hovercraft is the only vessel that can reach these areas during the spring thaw. We are doing our part to keep the arctic clean," Steve says.
Topics from this blog: Bering Marine Corporation Green Lynden Lynden Employees Alaska Specialized