Lynden is recognizing employees who make a difference every day on the job and demonstrate our core values, Lynden's very own everyday heroes! Employees are nominated by managers and supervisors from all roles within the Lynden family of companies.
Introducing Robert Thomas, Operations Supervisor at Lynden Logistics in Seattle, Washington.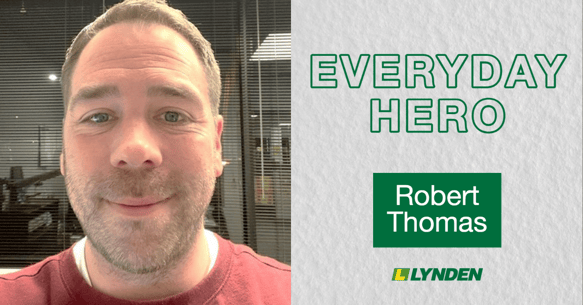 Name: Robert Thomas
Company: Lynden Logistics
Title: Operations Supervisor, Worldwide Communications Center (WCC)
On the Job Since: 2013
Superpower: Customer service excellence
Hometown: Puyallup, WA
Favorite Movie: Star Wars: The Empire Strikes Back
Bucket List Destination: Italy
For Fun: Hiking, cooking and spending time with friends and family
How did you start your career at Lynden?
It's a funny story. My brother, Ryan, was an administrative specialist at the GO (head office) at Lynden International (now Lynden Logistics). He got a job offer with a seafood place and recommended me for his job. I pretty much took the job he was leaving. Dave Richardson was the president then. I worked with Michelle Murphy and Linda Davis. I performed mailroom duties, coordinating reports for the executives and other administration tasks. After almost two years, I went to Lynden Transport in Fife for about 5 months as a customer service representative. Laura Sanders then offered me a job in the WCC at Lynden International in Seattle.
At the WCC, we deal with customers all over the Lower 48. Anywhere where we don't have a station, we handle pickups and deliveries with agents we have worked with for years. We work with around 200 cartage agents across the country.
What is a typical day like for you?
I get up at 3:30 a.m. I live in Puyallup, about 30 miles out from the office so I leave about 4:15 a.m. I start work at 5 a.m. so I miss a lot of the traffic. Depending on the day, we might have 50 to 100 pickups and deliveries to coordinate, route and manage. Some customers will call in, some will email, and we dispatch freight from different service centers. When we get a delivery or pickup in our area, we work with our agents to route it to a destination or port.
What has been most challenging in your career?
It's learning how everyone works and adapting to each person's unique work style. That includes managing the many agents we work with. It can be challenging going back and forth dealing with different time zones, projects and other issues. Each location operates a bit differently. Our first quarter in general is slower, but we start picking up second quarter. Summer is back to school, and fourth quarter is holiday shipping so it's always extremely busy in our office at that time.
What are you most proud of in your career, most memorable project?
I am really customer-service focused. Having direct communication with the customers is one of the most important things we do as a company. I am one of four people on our team making sure customers get the information they need quickly and efficiently. I remember working with (now retired) Rick Pollock in March of 2022 to charter three truckloads of freight to Alaska for a gas leak. We spent all day and all night working with agents through a lot of changes. The trucks were originally loaded and on the way to Texas, but they had to be rerouted to Tennessee. It was a project that involved thinking outside the box and problem solving. With a lot of variables, we need to get creative on how we solve it. In our office it sometimes gets busy and stressful, but you have a real sense of accomplishment when you get it done.
Can you tell us about your family and growing up years?
I have a twin brother and two younger sisters. I was born in Puyallup and have lived my whole life there near my mom and grandparents. Our cousins were always over at our house. Although we lived in Puyallup, we attended Sumner schools.
What was your first job?
I was a dishwasher at a sports bar in Black Diamond, WA. I worked there for quite a while and became a line cook at 16. I made French fries, burgers, pasta and pizza. I went home smelling like grease! Over the years I also worked retail and took some college classes in accounting trying to prepare for a career that eventually led me to Lynden.
What would surprise most people about you?
I have an identical twin, Ryan, who also works at Lynden Logistics in Seattle. We carpool to work. Ryan is now the father of twin boys.
How do you spend your time outside of work?
I have four nephews and two nieces. I see them all the time – almost every weekend. We have sleepovers and a lot of fun. I also have a 3-year-old rescue dog, Buddy. He is a heeler mix with some Rottweiler. He was found on the side of the road as a puppy, so I adopted him. He is the best dog I've ever had and is great with my nieces and nephews.
I go to Las Vegas every year, but mostly spend time with friends and family. I like to take walks and hikes, go to movies, and cook. In the summer I like to BBQ with my brother.
What do you like best about your job?
I love working for Lynden, and I love the people here. I've made some good relationships over the years. The atmosphere at Lynden is like a family.
Topics from this blog: Lynden Lynden Employees Lynden Logistics Everyday Heroes Featured