Lynden is recognizing employees who make a difference every day on the job and demonstrate our core values, Lynden's very own everyday heroes! Employees are nominated by managers and supervisors from all roles within the Lynden family of companies. Learn more about the people behind your shipment.

Introducing Karter Koelsch, Freight Operations Lead at Alaska Marine Trucking in Juneau, Alaska.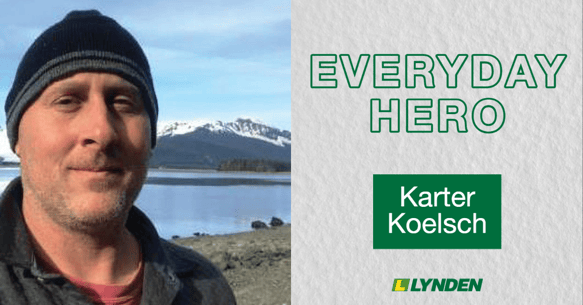 Name: Karter Koelsch

Company: Alaska Marine Trucking

Title: Freight Operations Lead

On the job since: 1998

Superpower: Organization

Hometown: Juneau, AK

Favorite Movie: Serenity: Firefly

Bucket List Destination: Galapagos Islands

For Fun: Date nights, hiking with my kids, playing on league softball and volleyball teams

How did you start your career at Lynden?
My dad knew Don Reid when he was the Port Manager at Arrowhead Transfer. Don called my dad and told him they needed part-time summer help, so starting in 1992, I was a swamper for the summer and then spent Sundays during the winter unloading Lynden trailers with Brian Lopez.

After that I went to the University of Alaska Southeast in Juneau, earned my AA and then attended Colorado State University in Fort Collins. In 1996 I came back to Juneau and started working in the Alaska Marine Lines warehouse while I took classes.

I moved up to checker and then started driving box trucks and making deliveries. In 2001, after about 3 years of driving, they promoted me to the yard to load and unload barges, help customers and manage the daily work there.

What is a typical day like for you?
No day is typical. Our days depend on when the barges arrive. I'll check the barge schedules to see the estimated time of arrival. I wake up Sunday morning and look at the ETA. From Petersburg to Juneau is 12 hours so I have that much notice to get the yard set up for the barge – making sure the manpower is where it needs to be, setting it up so the trucks and customers can get in. We are the first ones in when the barges arrives and the last ones out, sending it on its way.

We also need to know what is coming up on the barge from Seattle. You want to get the barge in and out as quickly as possible so the crew doesn't miss a tide to get to the next port. We have containers that come off, but also flats of palletized freight that need to go into the warehouse for our warehouse crew to break down and deliver.

When the first northbound barge comes in, it takes six hours to get it unloaded and reloaded. Then it goes up to Haines, Skagway and Kensington. We have to clear the yard and set it back up with our southbound freight and empty containers we are sending back down to Seattle, making sure we leave enough room for the other ports. In between the barges arriving, we all head home for some sleep. It's not a 24-hour schedule but the hours can definitely vary depending on weather delays and other factors. Sunday to Wednesday is the busy time and Thursday and Friday are our recovery days where we prepare for the next week.

What has been most challenging in your career?
Weather. Wind is a big issue in Juneau. We have the Taku winds named after the Taku Inlet. We can sometimes get 100 mph gusts. It's tough to work in that kind of environment. We have to make sure everything is secure. One day we had to shut down which was the right call. We wear protective gear to protect us against rain and snow but it still gets pretty cold up here. Sometimes customers don't understand that we are dealing with weather and many other issues to get the barges up to Juneau. They have high delivery expectations and usually we meet those expectations, but we are also at the mercy of things out of our control. Right now we are the best friends of everyone in Southeast because we have continued to deliver toilet paper, masks and other essentials they need during the COVID crisis!

What are you most proud of in your career?
Every year our family goes to Hawaii and when I return to work some customers tell me they are glad I'm back. That always makes me feel good that I have regulars who like to deal with me. The most rewarding thing I have done is training some of our employees to operate a forklift or earn a Class A CDL. I really enjoy being a mentor.

Can you tell us about your family and growing up years?
I grew up in Juneau with my parents Ken and Marian and a younger sister Amber. My parents still live in Juneau and they have been helping us with online school and childcare during the COVID changes. My wife Deborah is a nurse and she is working from home so my parents have been taking our three kids and helping with classwork. Our three kids are Kaylee, 12, Fiona, 9 and Kendell, 5.

My dad taught high school English and American Government and also directed n musicals and the school newspaper. He was very popular with his students. You can't go anywhere in Juneau without someone knowing him. Three or four nights a week we would have kids at our house for extra help with schoolwork.

I grew up swimming and playing soccer, basketball and baseball. In high school I lettered and competed at state all four years in cross country, swimming, track, student government, and high school spring musicals. I also played competitive soccer in the summer leagues.

Both my parents grew up on farms in Michigan so we would go back and visit family there. When I was 4, my Dad did a teacher exchange in Australia. We stayed in Melbourne for a year. We all went back in 1987 to travel around and reconnect with people there. The U.S. had lost the American's Cup for the first time, so we went down and watched Dennis Connor get that back in Perth. We rented a van and went all over the country.

I live on Douglas Island so I cross a bridge to get to Juneau for work. Our house has 8-foot windows and a view. Those 8-foot windows really start to vibrate when we get the high winds.

What was your first job?
I mowed lawns for two neighbors. They each paid me in a six pack of coke and a case of beer for my Dad. That went on for a couple of summers until I rebelled. My first paying job was working in a tourist arts and craft gift shop called Annie Kaill in Juneau. I was the box boy. The coolest perk was the jelly beans. I was always eating them.

What would surprise most people about you?
I have visited almost 50 countries in Europe, Asia, the Caribbean and the South Pacific.

I've had a bunch of sports injuries and broken bones, but once a doctor had to break a bone for me. I was skateboarding in Australia. I went down a hill too fast, bailed and landed on my wrist. The bone was bent, but not broken, so the docs numbed me up, held my arm and broke it for me. They had to make sure it would heal straight. That was in 7th grade.

How do you spend your time outside of work?
I like gardening, landscaping and working with wood. I also play poker with a bunch of buddies. We play for money but the most I've ever won is $100. I also play league softball on a men's team and on a co-ed volleyball team.

What do you like best about your job?
The sense of accomplishment. Even though you are pretty worn out after, it's a good feeling to put all the pieces in the right place to receive a barge and then set others up to carry on after it leaves your port. We all pull together to deal with adversity, like plowing the yard out after a big snow, or an unexpected summer shuttle barge. I also enjoy our tie with Alaskan Brewery and the other breweries up here. We ship everything from bottles to kegs both northbound and southbound. This winter we supported a tram project in Hoonah through Channel Construction barges. It's always something new at Alaska Marine Trucking, and we are a key component in everyone else's success.
Topics from this blog: Alaska Marine Trucking Lynden Employees Everyday Heroes