Lynden is recognizing employees who make a difference every day on the job and demonstrate our core values, Lynden's very own everyday heroes! Employees are nominated by managers and supervisors from all roles within the Lynden family of companies.

Introducing Edward Tuia, Driver at Alaska West Express in Anchorage, Alaska.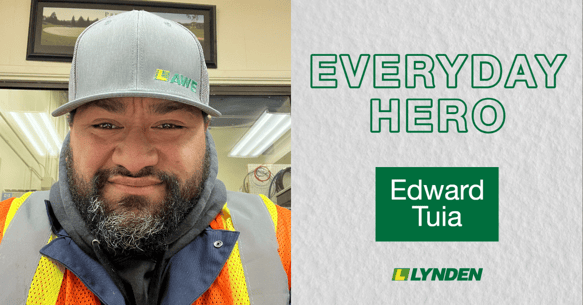 Name: Edward Tuia

Company: Alaska West Express

Title: Driver

On the Job Since: 2012

Superpower: Mentoring others

Hometown: Faga'alu, American Samoa

Favorite Movie: The Hulk

Bucket List Destination: Dubai

For Fun: Fishing, camping, remote control (RC) monster trucks

How and when did you start working for Alaska West Express?
I worked for Mayflower as a mover and my body was telling me it was time for me to leave and start a new career. I met some of the guys who work for Alaska West Express through Mayflower. They told me to come down and check it out. I met Dave Heston and was hired the same day. I still do some moving as a side hustle. I'm pretty good at it. It's a huge Tetris game.

What is a typical day like for you?
I do pretty much everything from fueling trucks to driving heavy haul. The only thing I haven't done is drive to Prudhoe Bay. I live in Anchorage, so my drive is 20 minutes to work. I get in at 3:30 a.m. and spend several hours fueling up about 50 Alaska Marine Trucking, Lynden Transport and Alaska West trucks. Then I hop into my other truck and start delivering freight. I drive to the port to fill up the fuel truck twice a week. We use summer fuel, called number 2, and winter fuel, number 1, with additives to prevent it from turning into sludge in the cold. I have taken loads to Anchorage, Fairbanks and Homer and work closely with Dave Heston.

What has been most challenging in your career?
The weather. This week it was 11-degrees below zero, so it was rough. Haven't had too many challenges on the job, but I did get showered with fuel when a tank malfunctioned while I was fueling it up. Luckily, I had my glasses on. I went home and showered!

Dressing for the weather is important. I have three pairs of gloves and swap them out from heating them inside the truck. I wear long johns, beanies and three layers of clothing. I don't care about my face as long as my toes and fingers are warm.

Other drivers present a challenge as well – being aware of your surroundings while on the road. I make sure that my equipment is good to go, but you have to watch out for the other people out there. They are always in a hurry.

What are you most proud of in your career?
What I accomplish here which is delivering freight in perfect condition on time and understanding the workload here in Alaska. I am also proud to be a part of the company. I have days where it's crazy, but I wouldn't trade it for another company in a million years. I like knowing that the owner of the company (Jim Jansen) visits the yard and waves at me. He also competes in the truck driving championships. I'd like to win the national championships representing Lynden.

I also enjoy being a driver trainer and mentoring new employees. I had mentors, too. They told me I was holding the clutch like any other rookie. As you do it every day, you develop your own way of driving and understand how your truck operates.

Can you tell us about your family and growing up years?
I was born in American Samoa. My parents wanted a better life. We moved to Hawaii when I was in third grade, and we moved to Anchorage when I was in seventh grade. They worked two jobs to earn the fare to come to Alaska. My first day in Alaska it snowed, and I jumped in the snow in my shorts and a tank top.

My house back home in Samoa had no wall. It was just a roof and wood cut down to hold the roof up. We lived with aunties and uncles. Dad, mom, me, my brother, my sister and grandma. I am the oldest of 11. The rest of my siblings were born in Alaska. That's why I'm good with only having two kids. I took care of all my siblings, and it was hard. Let's just say I learned how to take care of a baby. My dad got a job in Anchorage working for Mayflower and also a tire company.

I graduated from high school in 2001. I played football three years as a full- back and a defensive lineman. I wrestled in the winter. Those were some of the best years of my life. Growing up LDS (Mormon), I couldn't date or go to parties. I got hired to work for Walmart in high school, and I loved making money. Most of my check went to helping my parents. Growing up with 10 siblings, I never had my own room and I never bought anything valuable because I knew it would end up getting damaged. Today when we all get together with our kids, we number about 30 people.

My parents and siblings are still living in Anchorage. I go visit them when I can during holidays.
I met my wife, Alma, at a church dance. That was the only party I could go to! We have two children; a son, 17, Ezrael and a daughter, 14, Raella. Ezrael played on a hockey team sponsored by Alaska West Express.

What was your first job?
In ninth grade I worked for my uncle's landscaping business cutting down trees. After that I worked as a tire technician and for Alaska Club and Walmart.

What would surprise most people about you?
A lot of people who know me never expected me to be outgoing. I don't like to talk that much, but I do at work. I grew up speaking Samoan and had to learn English when I moved to Hawaii in third grade. I learned pidgin English there. It was never easy for me to speak correct English, so I was quiet and shy. I never really talked to anybody.

How do you spend your time outside of work?
I try to stay away from crowds, but I like watching NFL football. I went down to a Seahawks game in Seattle recently. I enjoyed it, but it was a big crowd at the stadium! We bought a trailer and like to go camping with the family. We also fish using a dip net for salmon. It's a long pole with a net at the end. I would like to take my family to Samoa sometime to see where I grew up.

What do you like best about your job?
The challenge. Especially when I'm taking something I've never delivered before – something oversized – and do it successfully. I like to represent Lynden well. It's great when they tell me it's something no one else has been able to do before, but I do it!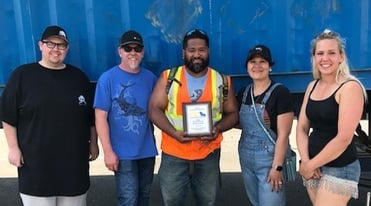 They tell me that I am in second place of overall placement in the national truck driving championships for Lynden. I have competed since 2018. I always wanted to do it, but I was nervous and had anxiety. I try to practice every day when I drive, backing up and focusing on placement on the road. I traveled to Florida in 2019 and Indianapolis this year to compete. We call it the Superbowl for drivers. You are trying to compete for recognition for your company. I like seeing different faces and seeing people from a lot of different backgrounds. I was bummed that I missed the second round by only 10 points this year, but there's always next year. Brian Ambrose is my mentor at these events. I just try to enjoy the experience and have fun.
Topics from this blog: Lynden Alaska Marine Trucking Alaska West Express Lynden Employees Lynden Transport Everyday Heroes Featured