Lynden is recognizing employees who make a difference every day on the job and demonstrate our core values, Lynden's very own everyday heroes! Employees are nominated by managers and supervisors from all roles within the Lynden family of companies. Learn more about the people behind your shipment.

Introducing Becky MacDonald, Logistics Manager at Lynden Logistics Services in Seattle, Washington.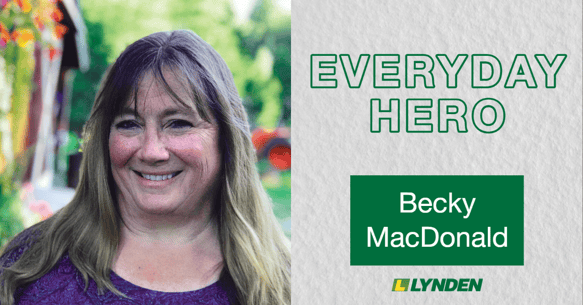 Name: Becky MacDonald

Company: Lynden Logistics Services

Title: Logistics Manager for oil refineries

On the job since: 1985

Superpower: Grace under pressure

Hometown: Vashon Island, WA

Favorite Movie: Remember the Titans

Bucket List Destination: Iceland

For Fun: Baking, travel, beadwork

How did you start your career at Lynden?
In 1985, I was working at Foss Alaska Lines in the rates dept. When Foss sold their assets to Lynden, I came to Alaska Marine Lines with the move. I worked at Alaska Marine Lines for 25 years starting in rates and billing, then moved into several positions, which included Pricing Manager, Customer Service Manager and Intermodal Services. In 2010, I moved to Lynden Logistics Services and now handle the transportation for five refineries operated by Marathon (formerly Tesoro) and Par Hawaii, along with capital and retail projects for Marathon as they come up for bid.

What is a typical day like for you?
Every day is different, which I really like. I handle every step of a shipment from quoting and pricing shipments to set up, dispatch, tracking, delivery and invoicing. It can be a 10-pound box or a 150,000-pound heat exchanger and anything in between.

What has been most challenging in your career?
Managing three projects at the same time. I work best under pressure and this kept me hopping!

What do you like best about your job?
My customers. I have built great relationships and enjoy working with them.
I've also had the pleasure of working with several Lynden companies on shipments. My shipments may be routed via air, ocean, truck or charter, so it's great to have the knowledge and capability of Lynden employees to work with. Everyone is always willing to help with a One Lynden attitude.

Lynden has been such a great company to work for. After 35 years, I still love my job.

What are you most proud of in your career?
Developing the Intermodal Department at Alaska Marine Lines. It started in 1989 with a customer asking if we could ship a 40-foot container of materials from North Carolina to Wrangell without transload. I worked with Pat Stocklin at Lynden Transport who taught me the process. From then on, Alaska Marine Lines offered the service to household good companies, retail and construction businesses, and it grew from there. We were able to partner with a third-party rail company and move their 53-foot containers through to Alaska which opened the door to more business. Our customers appreciate the door-to-door service. At Alaska Marine Lines, I was taught you don't say no. You say 'I'll look into it and get back to you.'

Can you tell us about your family and growing up years?
I grew up on Vashon Island, WA on the beach. We had to walk down a long trail to our house, or drive in on the beach if we had a lot of stuff to unload. My dad was a 6th grade teacher and we moved to Vashon when I was three years old. I have two older brothers and one younger brother whom I adore. They and their families all live on Vashon, and we are very close. Our parents taught us to work hard, be honest and kind.

Our playground was the beach and the woods. We heated our house with wood so I learned how to chop and stack wood at an early age. We caught fish, crab, octopus and geoduck off our beach, and mom did an amazing job cooking all of it.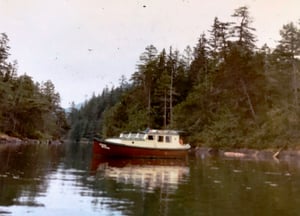 Growing up, we had a 30-foot Bristol Bay boat that was built in 1914 (right). From the time I was 10 until age 17, we spent our summers cruising the Canadian Islands living off the land. I spent many days in the spring working with my dad to get the boat ready for our trip.

We left home two days after school was out and came home three days before school started. Our dogs and cats came with us. My parents continued those trips after us kids grew up.

In high school I played basketball and participated in track as well as managing the boy's varsity baseball team. In my 20s I played softball, basketball and volleyball – and continued playing into my 30s, then began managing and coaching my kids' sports. I was a pitcher, catcher and played third base on three different softball teams.

My daughter Kelly is now 29 and works for Alaska Marine Lines as an account manager in Juneau.

What was your first job?
When I was 18, I went to work for Crowley Maritime as a cook on the tugs. I was one of two women working on the boats at that time. My first outside trip was for four months escorting oil tankers in and out of Valdez, AK. I made several trips to and from Hawaii and Whittier. I asked several times to be sent to Prudhoe Bay on Crowley's annual sea lift but was told it was too long of a trip for a girl. How times have changed!

What would surprise most people about you?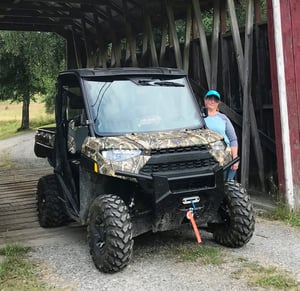 I live in a converted barn on 24 acres on Vashon Island. I call it the
"barndominium!"

How do you spend your time outside of work?
Love to bake – my specialty is cookies, but I enjoy all baking and cooking. I like gardening, walking, spending time with family, fishing, riding my Polaris Ranger (right) on the property and watching sports. Go Hawks!

I also chair a foundation with Kelly in memory of my son Andy who passed away in 2006. He was training to be a firefighter. We provide scholarships to cadets that are enrolled in the Highline School District's vocational high school firefighting program that Andy attended. They use the funds to continue their education in Fire Services. Several cadets have attended the University of Alaska Fairbanks Firefighting program, and are now full-time firefighters. We also provide donations to Andy's high school to purchase training equipment, and donate to other organizations as well. To date, we have raised over $100,000.
Topics from this blog: Lynden Employees Lynden Logistics Everyday Heroes