Lynden is recognizing employees who make a difference every day on the job and demonstrate our core values, Lynden's very own everyday heroes! Employees are nominated by managers and supervisors from all roles within the Lynden family of companies.

Introducing Andre Bell, Local Driver and Trainer at Lynden Transport in Houston, Texas.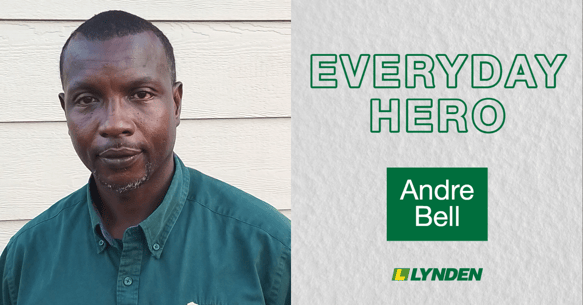 Name: Andre Bell


Company: Lynden Transport


Title: Local Driver and Trainer


On the Job Since: 2011


Superpower: Positive outlook


Hometown: Houston, TX


Favorite Movie: Beverly Hills Cop


Bucket List Destination: Dubai


For Fun: Fishing, tinkering with marine engines, grilling and baking

How and when did you start working for Lynden Transport?
I have been driving since 2005. I started with Silver Eagle Distributors (a Budweiser distributor in Houston). Then I went to R&L Carriers, a national company transporting general commodities. I was working nights at R&L. My wife was going through medical issues and it was taking a toll on me. I asked the Lord to find me an 8 to 5 job, and I stumbled across the Lynden job on Craigslist. Alexander Holt hired me. I joined two other drivers working there. I have to give a shout-out to Jesse Ray. I think of him as an Uncle. He took me under his wing, and I learned a lot from him about flatbeds. Everyone said 'Just follow Jesse.' We work so well together. I know he appreciates me, and I appreciate him. We are a tag team duo. Some days we're there by ourselves with four to eight trailers to load. We keep pushing one another. I was doubting that Lynden was going to hire me because I didn't have two years of flatbed experience, but I had a good resume. I was told 'Come on in, and you'll be fine.' I always told myself if I didn't finish college, I would get my CDL and make the best of it. I don't like to brag or boast, but I've been told since day one that I'm a natural at driving, and here I am 18 years later. I feel very confident in what I'm doing every day.

What is a typical day like for you?
I wake up around 6:30 and I govern myself accordingly. I live about 30 miles from the Lynden office so during rush hour it can take 30 to 40 minutes to get to work. When I get to the job, I check in with Jason and Jeff, Operations Supervisors. They give me the plan for the day. I gather all my stuff and get my equipment together. I warm up my breakfast, say a little prayer to bring me back safe and start my day.

I handle three to six deliveries a day, plus three or four pickups. Wednesday and Thursday are slower. I work a consistent 10-mile radius, and traffic can get a little heavy in the metro area. The customer dictates the time I get off. Customers come first. Even if we have a late pickup after 5 p.m., or a hotshot, I will go there and get the freight. It could be an hour out of the way. All my customers know me.

What has been most challenging in your career?
Metro traffic in Houston. I have developed patience for that. I don't let it bother me. I have less patience in my personal vehicle than my truck. I teach that to the guys I train. Don't ever get in a hurry. If there is going to be a delay, I notify dispatch to let them know. Even so, I will call my customer ahead of time. Some people go to lunch at 11 a.m. so they need to know.

I am hazmat certified, so those loads can sometimes be challenging. You must follow a certain hazmat route to keep the material away from residential areas. Also, no hazardous materials can be transported through downtown Houston. I actually prefer the outer route rather than congested areas within the city. I also have tanker and triples certifications.

What are you most proud of in your career?
My work as a Dock to Driver Trainer. I enjoy leading them and giving them the right information to help them along the way. It is one of my biggest achievements and I am very proud to do it. When the drivers leave, we get pretty emotional. I've done this for about four years and trained about 15 people. It takes a lot of nerve and guts to sit in the passenger seat while they are learning. I always tell my trainees 'the more you know, the further you go.'

Can you tell us about your family and growing up years?
I was born in Houston. When I was in tenth grade, my dad passed away. I am the youngest of three. My sister is four years older and my brother 9 years older. My mom passed away in 2002, and my siblings talk to each other every day in a group text. We bicker but are close. They live about 20 minutes away from me. My older brother drives a truck, too, and my dad drove a bobtail truck. I still live in the house I was born and raised in.

Growing up I played little league, and I played football, baseball and basketball in high school. During my senior year I decided I wanted to try everything – it was my last chance! So I played snare drum in band, ran track and even modeled for pictures and made the honor roll. After high school I went to college in Grambling, LA to study electrical engineering. I had fair grades. I was trying my best, but I don't think my high school prepared me for college like it should have. Taking pre-calculus was tough and caused me to change my major. I went to college for a while, but later quit and started working at Walmart. I always went back to my college for events like homecoming. I'm glad I did because it's where I met my wife DeWanna at a homecoming party.

She has a degree in early childhood development and minor in psychology. She's my best friend. We have a son, Andre II, who is 18 and in his senior year of high school. He is planning to go to college, possibly Baylor.

What was your first job?
I was on my bicycle dragging a lawn mower behind offering to mow lawns door to door. I charged $5 for the front and $5 for the back. My friend and I did it together. We used the money to buy toys out of the toy section of a grocery store. I had one hand on the handlebar, going down the street and the other on the lawn mower handle. I learned a lot from it like how to conduct yourself and how to handle money.

What would surprise most people about you?
I am basically a shy person. The customers that know me and talk to me every day probably wouldn't believe that!

How do you spend your time outside of work?
I am on my third and final boat. I like to go fishing with my son for flounder, red drum and speckled trout in the Gulf of Galveston which is about an hour away. I'm the president of a fishing group called 713 Anglerz. The area code where we live is 713, so it's a play on that. It's a bunch of guys who get together to help each other and share fishing tips. We make a boat float – a convoy of our boats on the water – and cook and eat on our boats. If we want freshwater fish we go to the lake or river in surrounding towns of Texas City and Freeport, or we go to the coast of Texas. We get together about once a month with our wives. Right now we are planning a trip to Alaska to fish.

I was raised in the kitchen and love to grill meat on the BBQ and fry fish. I also love to bake. Pecan pie is my specialty. I used to sell them at the last place I worked. I made 20 of them at the holidays and sold every one. It's a family recipe. Some of my buddies say I should start a YouTube channel so people can follow my life. Working on marine and small engines is another hobby that I picked up by googling, youtubing, researching and reading.

What do you like best about your job?
I love coming to work. I've had jobs where I dread coming in, but here I really enjoy the small work environment. You are somebody here and you mean something to the company. Lynden is the best company you ever want to work for. You are not in competition with 300 other drivers every day. Everyone from the top down is down to earth. We went out to a company dinner once and I sat next to Jim Jansen. The executives and managers like Jim, Paul Grimaldi, Jered Post and Terry Smith, are just ordinary people. When they come into our office, they show me love by shaking hands and asking about me. You don't find that every day.
Topics from this blog: Lynden Lynden Employees Lynden Transport Everyday Heroes Featured