Lynden is recognizing employees who make a difference every day on the job and demonstrate our core values, Lynden's very own everyday heroes! Employees are nominated by managers and supervisors from all roles within the Lynden family of companies.

Introducing Ned Arthur, Equipment Operator at Knik Construction in Alaska.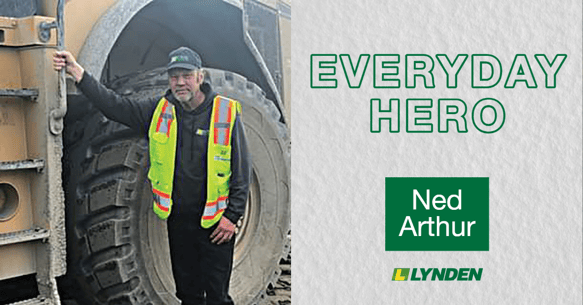 Name: Neil (Ned) Arthur

Company: Knik Construction

Title: Equipment Operator

On the Job Since: 1989

Superpower: Paving Pro

Hometown: Searsboro, Iowa

Favorite Movie: Roadhouse

Bucket List Destination: Italy

For Fun: Halibut fishing on his boat, smoking meat, and spending time with his 12 grandchildren

How and when did you start working for Lynden?
I worked at Harley's Trucking and Polar Paving, which later became Roadbuilders, a big outfit in Anchorage, and Quality Asphalt before I was hired by Jim Kirsch at Knik. Jim was a great guy and we had a lot of fun. In 1989 when I was first hired, we were working in Skagway right on the ocean. We had a big dock down there and an ore terminal. Yukon Alaska Transport was a new company to truck lead and zinc ore from Whitehorse, Yukon Territory, to Skagway for loading on ships at the port. Knik bought its first asphalt plant and we paved around the terminal so it was easier to get the trucks in for ship loading. Jim, Lyle and Dale Kirsch were all people I worked with.

What is a typical day like for you?
If it's spring or summer I'm at work somewhere where Knik has projects going on. If it's winter I'm home. We work until it's so cold you can't work anymore or until snow makes paving too difficult. There have been times that I've had so many layers on that I can barely stand up!

Lately I've been working at the gravel pit. We have an asphalt plant set up there, and I run a loader when we're making asphalt. We usually make between 800 to 5,000 tons in a day and it comes out at 350 degrees. One day we had 35 belly dump trucks coming through from Anchorage and they went 80 miles to Homer.

I live in Sterling, AK in a log home we bought in 1986. A friend of mine sold it to me and what is now our living room was the original cabin. We put on a foundation, a loft and basement.

What has been most challenging in your career?
Working around heavy equipment you have to be alert. When loading and unloading barges you need to stay clear of booms and keep your eyes open. You can get hit if you don't know where you need to be. Also, in all the places we've traveled for projects, you never know what's coming. You have to adjust to different places, people and climates. Also, the climate can be tough. You're either cooking or freezing!

What are you most proud of in your career?
The Wake Island and Guantanamo projects. My wife Connie spent six seasons in Guantanamo Bay with me while we were working on that project. We were awarded the bid to do the runway, which was built on a big rock pile with cliffs all around it. It worked out well.

Can you tell us about your family and growing up years?
I grew up in Iowa, one of six kids in my family. I have an older brother and sister and two younger brothers and one younger sister. My dad was killed in a train accident when I was in sixth grade, so my mom had to raise us. We did everything we could to help my mom, and her parents helped too. My older brother moved to Alaska, so in 1977 I came up to check it out and never left.

I knew Connie from Iowa. She had two boys and worked at a restaurant that my mom managed in Grinnell. You could say my mom played matchmaker. We got married in Iowa then drove up the Alcan when her boys were about 9 and 10. We drove her Pontiac TransAm. We flew the boys up and they stayed with us in summers and went back down to Iowa for the school year. We had two daughters in Alaska, and now we have 12 grandchildren between all the kids.

What was your first job?
I worked at a filling station, pumping gas and changing oil when I was in high school. Once I graduated, I worked at a farm equipment manufacturing place for a couple of years. I was on an assembly line building pug mills that grind corn into animal feed.

What would surprise most people about you?
I took home a souvenir from a job site. I found a dead walrus on the beach near Platinum, AK. I decided to take it home to display the tusks in my house. I had to soak the skull to remove all the debris to get to the walrus teeth and tusks. My wife thought it was pretty strange, but I had the tusks mounted on a piece of walnut and it looks really good. One of the grandkids worshipped the walrus tusks.

How do you spend your time outside of work?
I'm always on the go. I don't like to sit around. When I'm in Knik's off-season during the winter months, I watch some of the grandkids. They range from age 2 to 15. I also like to watch football – the Minnesota Vikings are my favorite team. I've always liked them from the time I lived in Iowa. I also like to cook BBQ meat on my Traeger smoker and take my 22-foot boat out fishing with buddies from work.

I also have a 38' by 28'-foot shop where I like to work on car restoration projects. I have a Ford Ranger XLT pickup that I bought new in 1976 and drove in Iowa. It only has 100,000 miles, and I don't take it out here unless it's dry weather. It's kind of a hobby. I've had Camaros, Chevelles and Novas. My first car was a 1955 Chevy Bel-Air, red with a white top, that I bought from my brother. I had it for about 10 years then bought a 68 Chevelle. I've had a lot of cars over the years.

What do you like best about your job?
It's nice to look at something you helped to build and know it will be there for a long time.
Topics from this blog: Lynden Lynden Employees Knik Construction Everyday Heroes