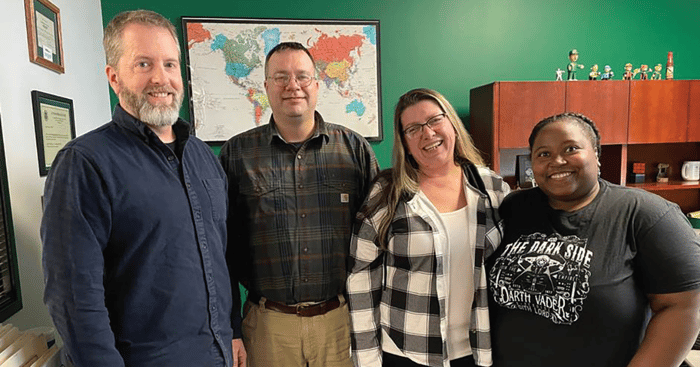 The Customs team, from left, Matt Bykowski, Hans Jensen, Angela Velasquez and Jaslyne Mitchell.
In response to changes in U.S. Customs regulations and to promote efficiency, Lynden Logistics has created a Customs Brokerage team to centralize all customs requests throughout the Lynden system. According to Director of Compliance Matt Bykowski, the U.S. Customs changes included a transition to a national permit model allowing customs brokers to clear cargo anywhere in the U.S., no matter where they are located.
"The old way of doing things was to have a licensed customs broker domiciled at each port," he says. "With the advent of digital communication and, with people no longer tethered to desks, Customs & Broker Protection's regulatory changes were an opportunity for this huge agency to get up to speed and reflect what is actually happening in the field."
The change means that customs brokers are no longer required to be physically present at various Lynden locations. All import and export clearances and other permitting is handled by Matt, Hans Jensen and Angela Velasquez in the new Customs Brokerage Seattle office. Jaslyne Mitchell represents the fourth member of the team from Atlanta where she serves Lynden's Southeast and Eastern regions as well as New York and Chicago.
In the past, Lynden employees would need to search for customs services among the various locations and Service Centers. Now, by emailing customsbrokerage@lynden.com, the requests are viewed and responses are generated from a member of the Customs Brokerage team – no matter the location or Lynden company. The Customs Brokerage team is experienced with multi-modal customs documentation. Three members are licensed customs brokers and Matt is a 30-year industry veteran in customs and trade compliance.
"We handle about 4,000 customs clearances a year," Matt says. "Our new team gives us added flexibility and allows us to engage our employee resources wherever they exist. All companies, from Bering Marine to Lynden Air Cargo, can now rely on us to serve their needs."
Topics from this blog: Lynden Lynden Employees Lynden Logistics Featured