Brown Line, LLC, an industry leader in temperature-controlled truck transport, earned a SmartWay Transport Partner 'High Performer' Status ranking from the U.S. Environmental Protection Agency (EPA) this month. Among the hundreds of fleets partnering with the EPA through SmartWay, Brown Line is among the select few that have earned SmartWay High Performer status for all performance metrics.
According to the SmartWay Transport Partnership, just over 2 percent of all SmartWay carriers operate fleets so clean and efficient that they make the High Performer list. "These companies are a step ahead in meeting the challenges of sustainable goods movement and have achieved significant shipping and freight efficiencies that merit special attention," says Gina McCarthy, EPA Administrator. "Compared to their SmartWay peers, High Performer carriers drive cleaner, emit fewer pollutants and burn less fuel for every mile they travel and for every ton of freight they move."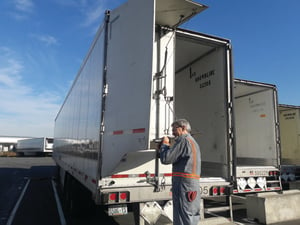 Over the past seven years, Brown Line has decreased its idle hours by 87 percent, its Nitrogen Oxide (NOx) emissions by 43 percent, its Particulate Matter emissions (PM) by 52 percent and its Carbon Dioxide (CO2) emissions per ton mile by 27 percent. The company has also improved its mile per gallon (MPG) by 44 percent. "The Brown Line team is extremely proud of this award and this recognition. To be in the top 2 percent of all trucking companies is affirmation that our efforts to improve freight efficiency are paying off," says Brown Line President Bill Johansen. "We will continue to adopt programs and practices that improve productivity and reduce our carbon footprint on the road and in our operations."
Brown Line uses highly efficient engines, lightweight equipment with enhanced aerodynamics, automatic tire inflation systems and onboard computers to manage highway speed, progressive shifting, best routing options and idle times. Other efficiency measures include:
Cab design, with roof fairing, side skirts, integrated sleeper, and aerodynamic mirrors and bumper, reduces drag. Ultra-lightweight 53' trailers use side skirts and trailer tails.

Fleet includes 53-foot trailers with California Air Resources Board (CARB) compliant reefer units.

Team drivers and new high-efficiency plug-in electric refrigerated trailers minimize the need to idle the truck's engine. All reefers are electric.

Efficient engines – DT-12 Transmission Program, Carb Emission Certification-Clean Idle.

Gearing – DT-12, heavy duty 12-speed overdrive automated manual transmission increases miles per gallon.

All trucks and trailers use wide-base, low-rolling resistant single tires and have an automatic system to keep tires properly inflated for optimum fuel economy and to reduce tire wear.

PeopleNet tool is used to measure engine/driver performance in decreasing idle time and increasing miles per gallon with an average of 7.6 MPG for the entire fleet and an overall reduction in fuel use.

Event Recorders are installed in all tractors to ensure improved safety and reduce cost.
Brown Line became a SmartWay Transportation Partner in 2010. Sister company Lynden Transport became the first Alaska trucking company to join SmartWay in 2008, followed by LTI, Inc./Milky Way – a three-time winner of SmartWay's Excellence Award – and Alaska West Express in 2012.
The EPA launched SmartWay in 2004 to help businesses improve the sustainability of their freight supply chains. Today, the partnership consists of 3,000 companies representing a cross section of the freight supply chain.

Brown Line is one of the Lynden family of companies whose combined capabilities include: shipping to Alaska, truckload and less-than-truckload transportation, barge service to Hawaii and Alaska, charter barges, worldwide air and ocean forwarding, third-party logistics, trade show shipping, intermodal bulk chemical hauls, scheduled and chartered Hercules L-382 cargo aircraft and multi-modal logistics. Lynden companies are repeat winners in the annual Quest for Quality customer service awards presented by Logistics Management magazine.
Topics from this blog: Awards Green Lynden Seafood Brown Line Grocery Chill and Frozen LTL Temperature-Controlled Truckload Ground