Lynden's Logistics Projects Team moves a variety of cargo to offshore rig platforms – even lifeboats. Last year, Sakhalin Energy Investment Company (SEIC) needed two lifeboats delivered to the Molikpaq Drilling Platform off the coast of Sakhalin. Alexander Pershanin, Logistics Supervisor of Lynden's Yuzhno-Sakhalinsk office AmRusTrans, was asked to provide pricing and a logistics plan to move the boats from Poland and additional gear from Germany to the rig base.
"SEIC wanted both lifeboat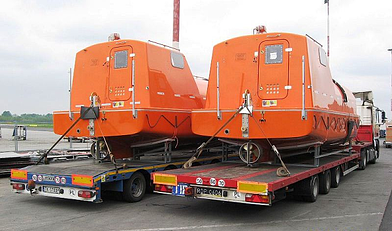 s flown to Sakhalin and the only aircraft that could handle the full load was an Antonov-124," explains LaDonna Blackwell, Director of Global Projects for Lynden Logistics in Houston. "It was more cost effective to consolidate the cargo from both locations in Warsaw. Because of airport equipment and runway limitations, special permissions were required ahead of time to land the AN-124 in Yuzhno-Sakhalinsk."
To add to the challenge, the lifeboats were needed within a week. "The lifeboats were ready on April 30, but had to be at Yuzhno-Sakhalinsk and customs cleared before May 6," Alexander says. "Poland was celebrating a holiday on May 3 and Russia from May 7– 9, so we had a very tight window to load and receive the cargo. The manufacturers allowed us to load on April 29 which gave us the weekend to make the two-day trip to Warsaw."
The plan was for the aircraft to make one stop in Moscow and then proceed to Yuzhno-Sakhalinsk. The plane arrived in Sakhalin the morning of May 5, right on time. After offloading and clearance, the lifeboats were delivered to the Kholmsk Shore Base for ocean transport to the drilling platform (see photo above).
According to Alexander, Lynden partner Maurice Ward was a valuable asset with the trucking, customs clearance and communication with the boarding agents. Lynden Logistics has two offices in Russia operating as AmRusTrans; one in Moscow and the second in the Russian Far East on Sakhalin Island.