For the fifth year in a row shippers have voted Lynden Transport the top LTL carrier for the Western Region in Logistics Management magazine's 27th annual Quest for Quality Awards. Lynden Air Freight/Lynden Logistics earned a fourth place ranking among 10 freight forwarders. Lynden Transport has now received 14 annual Quest for Quality awards and Lynden Logistics has placed in the top five for 11 consecutive years.
Lynden Transport led the regional LTL pack overall with the highest rankings in the information technology, customer service and equipment and operations categories. Lynden Transport is best known for shipping to Alaska from the lower 48 states and Canada.
Quest for Quality is the transportation industry's most important measure of customer satisfaction and performance excellence.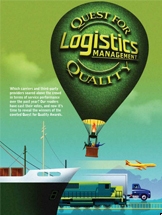 Shippers grade carriers on customer service, on-time performance, value, equipment and operations and information technology during the previous year. This year, 5,426 logistics and supply chain decision-makers cast their votes on the basis of service quality. According to Logistics Management Magazine, "Considering the environment in which carriers and 3PLs found themselves operating in over the past year, the staff agrees that walking away with a Quest for Quality Award in 2010 just may be one of the greatest accomplishments a transportation and logistics provider has ever achieved."
"We are extremely proud to receive this award year after year," says Lynden Transport President Jim Beck. "It's no secret that these are trying times. This award is proof that we are persevering while meeting our goals to keep performance and service levels constant for our customers. It also provides great inspiration for us to work that much harder to maintain our top ranking."
"Each year we look forward to the Quest for Quality Awards to let us know how we're doing with our customers and how we measure up against our competitors," says Dave Richardson, President of Lynden Logistics. "We are pleased to be among the top freight forwarders this year, and we will use the results to see where we might improve our service, performance and value in the coming year."
Topics from this blog: Freight Forwarding Awards Lynden Transport Lynden Logistics LTL Ground