Enhanced EZ Tracing and redesigned website puts customer in the driver's seat
ANCHORAGE – Lynden Transport's industry leading EZ Tracing system just got better with the addition of GPS mapping of shipment locations while in route over the highway. By clicking on a link on the Lynden Transport website, customers can monitor their shipments on a digital map that shows the truck as it moves from origin to destination. Lynden Transport is the only Alaska trucking company to offer this live tracking service to its customers. The company also launched a brand new website, www.lynden.com/ltia, redesigned based on customer feedback for easier navigation.
"We are very interested in customers' ideas to improve service and value," says Jim Beck, Lynden Transport President. "Lynden Transport has some long highway routes such as from Texas to Alaska and our customers requested that we provide more than depart and arrive status. With the new GPS live tracking maps we can provide multiple location updates per day.
"GPS mapping adds a dimension of transparency that puts the customer in control and assures them that their shipment will arrive on time," Beck added. "We plan to expand our network to include freight moving on marine vessels so our customers can see the same visibility on the water as we now offer on land."
GPS mapping example: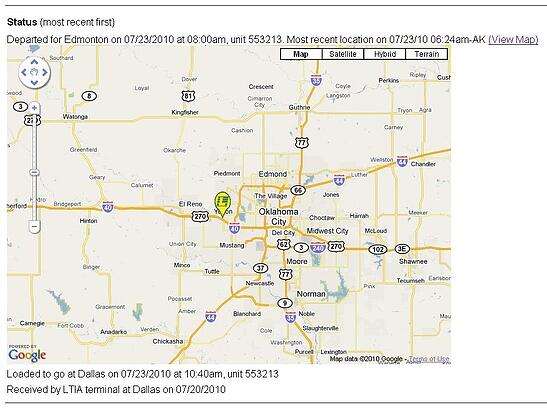 GPS mapping is the latest addition to Lynden Transport's other recent service improvement, Predictive Delivery, which provides customers up-to-date delivery times for their shipments in major services centers in Anchorage, Fairbanks, Kenai, Juneau and Ketchikan.
The EZ Tracing GPS mapping feature is automatically engaged each time a shipment is viewed through the EZ Commerce system. If you would like to sign up for Lynden's free EZ Commerce program, go to www.lynden.com/ltia and click on the "sign up now" link, or call your local Lynden representative.
Lynden Transport is the trusted leader for trucking to Alaska. Its network of service centers is the largest in Alaska and provides extensive coverage with integrated truck, marine and air services. The Lynden family of companies combined capabilities include: truckload and less-than-truckload transportation, scheduled and charter barges, rail barges, intermodal bulk chemical hauls, scheduled and chartered air freighters, domestic and international air forwarding, international ocean forwarding, customs brokerage, trade show shipping, remote site construction, sanitary bulk commodities hauling, and multi-modal logistics. Lynden companies are repeat winners in the annual Quest for Quality customer service awards presented by Logistics Management magazine.
Related Blog Post:
Have you seen the new Lynden Transport website?
Topics from this blog: Lynden Lynden Transport Alaska Ground