Canadian Lynden Transport stepped up service in February with the addition of a 60-ton step deck to its fleet. The new trailer is 3,000 pounds lighter than the one currently in service, but can carry more weight -- approximately 10 tons more. It has an expanding axle system to handle heavy haul loads over the Alcan and a lower floor height so drivers can haul taller loads than before.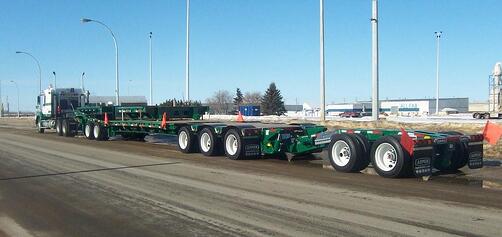 Now that the Tok Bridge replacement is done, trucks can carry more weight on the Alaska Highway. The new trailer couldn't have come at a better time. Oil field customers can use versatile new equipment like this for drill rig moves between Alberta, B.C. and the Port of Houston. Home base for the new step deck is Edmonton so it can fan out to any location for customer use.


From the Lynden Archives: The article was originally written in March 2010.