U.S. Capitol Christmas Tree Makes Special Appearance in Seattle on Nov. 7
"People's Tree" Visits Lake Union Park on Historic Journey from Alaska to Washington D.C.
For more than 50 years, a tree has graced the West Lawn of the U.S. Capitol for the holiday season. The Chugach National Forest in partnership with nonprofit Choose Outdoors is bringing the U.S. Capitol Christmas tree from Alaska to Washington, D.C. for the 2015 season, involving more than 10 communities along the way, including an appearance at Lake Union Park near the Museum of History and Industry (MOHAI) on Saturday, November 7 from 10:00 a.m. – 12:00 p.m.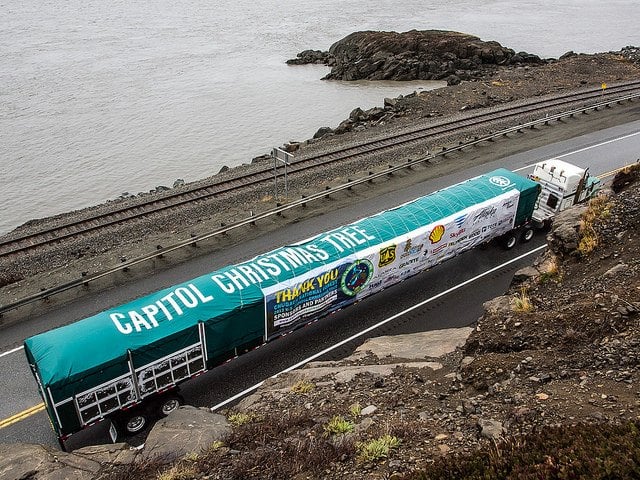 (photo courtesy http://www.trackthetree.com/)
The tree was cut on Oct. 27 near Seward, Alaska, and prepared for the 4,000-mile expedition by land and sea. The tree left the Chugach National Forest driven by Lynden Transport's nationally recognized driver John Schank and followed by a caravan of caretakers for the journey to the U.S. Capitol. Fifteen community celebrations are being planned throughout the tour, culminating with the official tree lighting in early December.
Kenworth Trucks and Lynden Transport are two area-based sponsors supporting the 2015 U.S. Capitol Christmas Tree initiative. A specially decaled Kenworth T680 will transport this year's U.S. Capitol Christmas Tree across the country with Lynden's John Schank at the wheel. A 1924 Kenworth truck built at the company's first assembly plant in Seattle is on special loan from PACCAR and is on display at (MOHAI).
The Nov. 7 festivities in Seattle will include the 2015 U.S. Capitol Christmas tree on display, the debut of the Kenworth T680 and Christmas-themed truck wrap, Lynden Transport's 1954 truck museum, representatives from the U.S. Forest Service and Choose Outdoors, Smokey Bear and Sasha Salmon, and special performance by Alaska band, Blackwater Railroad. Activities are open to the public and free for all to enjoy. Attendees are encouraged to visit MOHAI following the event. "We are honored to be a part of this historic project," says Paul Grimaldi, Lynden Transport President. "There is no one better to transport this precious cargo – the People's Tree – than our veteran driver John Schank who has logged 37 years and 5 million miles on the road accident-free."
Schank was recognized as the 2014 Driver of the Year by the Alaska Trucking Association (ATA) and received a letter of commendation from former Alaska Governor Sean Parnell for 37 years of accident-free driving over the treacherous Dalton Highway linking Fairbanks to Prudhoe Bay, Alaska. Schank has logged 5 million miles on the highway – more than any other driver in history.
"This historic journey is only possible with the help of strong community partnerships throughout Alaska and beyond state lines," said Bruce Ward, founder of Choose Outdoors. "We're grateful for the time and resources Lynden Transport is providing to help make this the best tour to date."
Associated costs are paid for in part by the U.S. Forest Service, while costs for the tree's transportation and special events are covered by in-kind services and donations from major 2015 supporters Lynden Transport, Shell, Alaska Airlines, Skybitz, Alaska Railroad, Alaska Crane, Granite Construction Company, ReThink Wood, Truckload Carriers Association, TOTE Maritime Alaska, Hale Trailer, Kenworth Truck Company and more.
For more information on the Seattle tour stop, visit www.mohai.org. For related news, events and tour information, and to track the tree cross-country, visit www.capitolchristmastree.com.
Topics from this blog: Lynden Employees Lynden Transport Alaska United States Oversized/Heavy Haul Ground Community