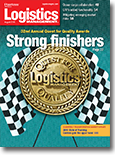 Lynden Transport and Lynden Logistics earned first place in the Less-than-Truckload (LTL) regional carriers and Airfreight Forwarders categories in Logistics Management magazine's 32nd annual Quest for Quality Awards. It is the third consecutive year Lynden Transport has taken the No. 1 spot. Lynden Transport received the highest rankings in the customer service, information technology and equipment & operations categories and topped all other overall weighted scores. Lynden Logistics/Lynden Air Freight was rated highest in the value and equipment & operations categories and finished in first place among 23 service providers. Lynden Transport has earned 19 Quest for Quality Awards.
Each year, thousands of transportation and logistics customers are asked to evaluate service providers in the following categories: on-time performance, equipment & operations, value, information technology and customer service. This year the research group received 4,649 total responses. To be a "winner," a company had to receive at least five percent of the category vote. The results provide customers with a definitive ranking of companies by category and those that finished above average.
"To be voted No. 1 by our customers for a third year is something to be

proud of and affirmation that we are on the right track with our service, equipment and performance," says Lynden Transport President Paul Grimaldi. "We face many regulatory and operational challenges in the LTL industry, but we pride ourselves on maintaining the Lynden brand of customer service no matter how tough the challenges and obstacles. This award truly belongs to our dedicated employees who work tirelessly to take good care of our customers."
"The Quest for Quality Awards give us a real sense of how our customers perceive us. It is an award based strictly on service quality and is the only survey of its kind in the market. This makes our No. 1 ranking even more meaningful," says Lynden Logistics President Dave Richardson. "I am proud of our employees and the quality service we provide to customers day after day, year after year."
According to editors at Logistics Management magazine, "This year our survey results yield 125 providers of transportation and logistics services that have received the ultimate vote of confidence, posting the highest scores across our lists of critical service criteria. Lynden Transport and Lynden Logistics are among those who received the ultimate vote of confidence, posting the highest scores in their respective categories and overall."
Since its creation in 1985, the Quest for Quality Awards program is widely recognized as the transportation industry's most important measure of customer satisfaction and performance excellence. Voting is by invitation only and the voter must have had experience with that particular provider at some point over the past year.
Topics from this blog: Awards Lynden Transport Lynden Logistics LTL