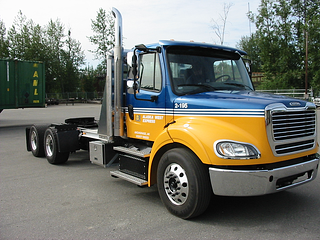 Alaska West Express is testing an on-board oil filtration system on six of its tractors that is allowing the company to operate even more clean and green. The trucks can now run as many as 145,000 miles between oil changes, eliminating around 56 oil changes and saving 657 gallons of oil.
A six-micron filter removes debris from the oil and has a heating element to eliminate moisture. "The removal of moisture from the oil keeps the acidity of the oil in check and almost completely removes sludge," says Steve Nolan of Alaska West Express in Fairbanks. Rather than changing the oil every 25,000 miles, oil is tested and changed only when necessary which lowers maintenance costs.
Alaska Marine Lines has been using similar units to filter hydraulic fluid and oil on its equipment. "These units require a change in thinking from routine oil changes to sampling and changing based on actual need," says Les Candee, Equipment Maintenance and Procurement Manager at Alaska Marine Lines. "It requires that sampling becomes part of the maintenance culture, as opposed to automatically draining and disposing of all fluids on a time-based program".
These maintenance programs are part of Lynden's ongoing commitment to environmental stewardship.