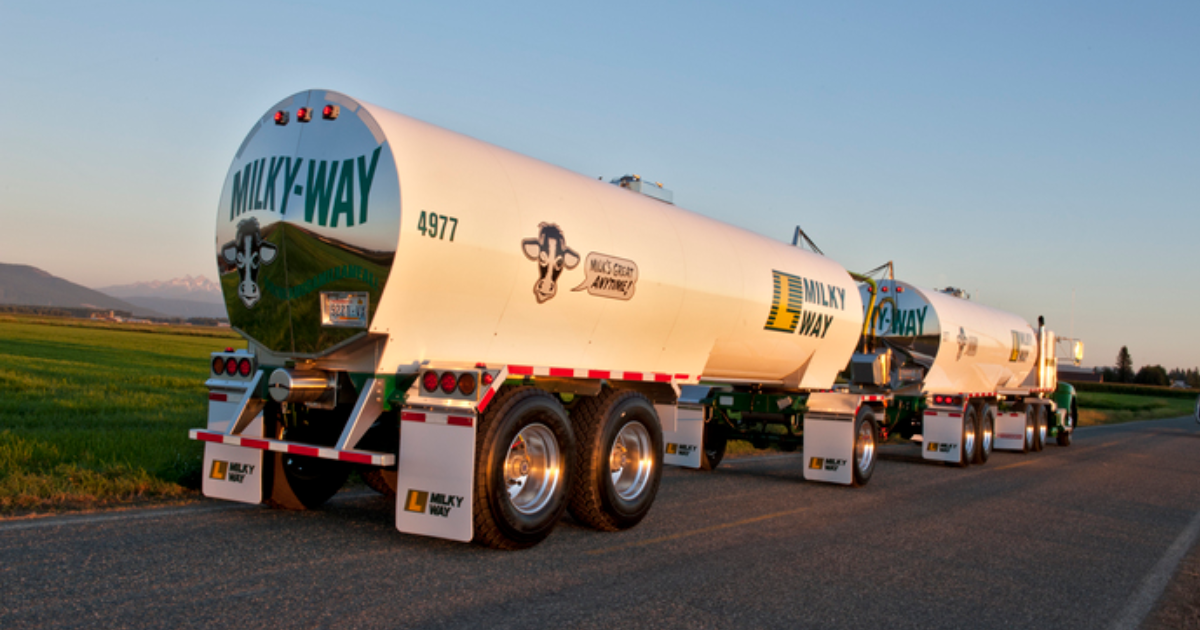 The Lynden companies are continually looking for ways to save fuel and operate more efficiently. Lynden's Equipment Team is testing new fuel-saving technology from aerodynamics to tires to idle-reduction equipment.
Improving aerodynamics of tractors and trailers has great potential to save fuel. Brown Line can attribute at least 5 percent of its 25 percent fuel economy gains over the last three years to the use of trailer side skirts, and Lynden Transport has seen similar gains with side skirt tests in Edmonton, California, Texas and Alaska.
"In theory, every 2 percent reduction in trailer drag results in a 1 percent fuel economy gain," says Lynden Tank Company General Manager Len Kilmer. Last year, Lynden Tank worked with Western Washington University's Computational Fluid Dynamics program using digital drawings to simulate Milky Way tankers and identify areas to reduce drag. Lynden Tank is now developing the most cost-effective options that were identified with the computer model. Milky Way is also testing a prototype tanker to determine the actual benefits of side skirts, air flow tabs, and a new smooth seam on the tank (see photo).
Experimenting with tires provides another opportunity to save fuel. Lynden Transport, Brown Line and Alaska West Express have been testing "super single" wide-base tires (pictured below). According to Charlie Mottern of Lynden Transport, the wide-base tires are lighter by about 1,000 pounds per 5-axle set. "They are giving us much better tire life at a slightly lower cost and better fuel economy than a typical set of doubles." Lynden companies are also testing automatic tire inflation systems that maintain proper tire pressure to optimize fuel economy and reduce tire wear.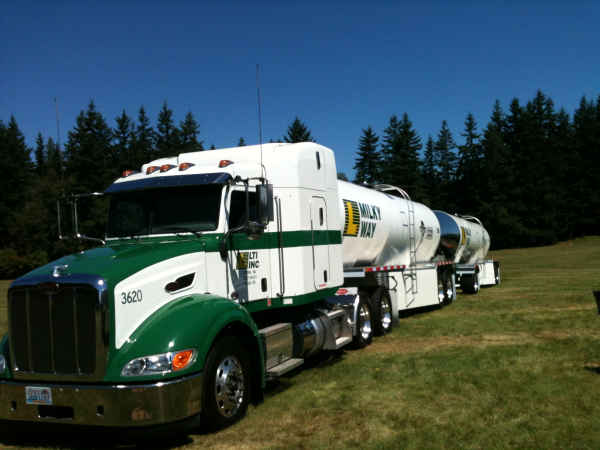 For the past three years, Alaska West Express has been testing auxiliary power units (APUs) on 13 of its units. The small generators provide electricity and heat to the cab and keep the engine warm. This allows the driver to shut down the engine during winter downtime rather than idling the truck's engine. They burn about one-quarter of the fuel as an idling truck and have so far saved Alaska West about 16,000 gallons of fuel and 25 oil changes.
LTI, Inc. is currently running "head to head" testing on its Alexco ore haul between Seattle and Trail, B.C. Fuel and other operating costs are being carefully monitored and compared between Freightliner's DD13 engine and Paccar's MX engine. So far, data has been collected and analyzed for nearly 800 trips.
Topics from this blog: Lynden LTI Inc. Lynden Tank Company Green Lynden Milky Way trucking Lynden Transport Ground