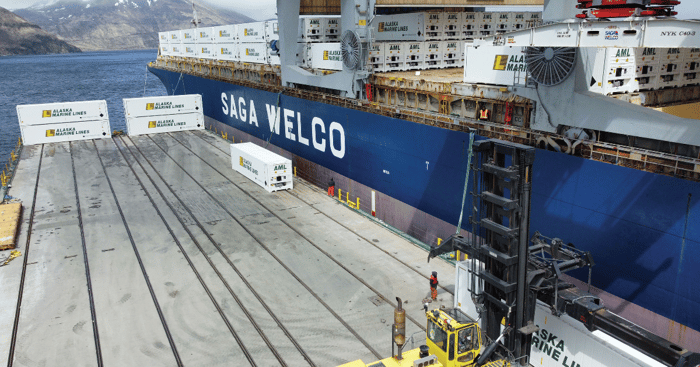 photo caption: Alaska Marine Lines reefers arrive in Dutch Harbor.

Alaska Marine Lines' new refrigerated containers enter service just in time. This year's record Bristol Bay sockeye harvest is moving in the 852 containers that were delivered straight from the production line to Dutch Harbor, AK, in May.
The containers are the latest in efficient refrigerated operations. They feature temperature-controlled software that can vary the fan speed and control the compressors to match the conditions and current cooling demand. That translates into a power draw one-fifth that of older containers. Less power required to run the reefers means fewer generators running, less fuel consumption and lower carbon emissions.
"In the Southeast lane alone the lower amp draws of the StarCool units have allowed us to transition from running four or five generators on the northbound sailings to only one generator running 70-plus reefers," says Steve Hardin, Director of Equipment & Maintenance at Alaska Marine Lines. "The savings in fuel and maintenance alone have been significant."
According to Alaska Marine Lines Purchasing Manager Jay Marchand, the new containers are a vital link in the cold supply chain that helps get food to tables. "These new containers are a commitment to AML's customers to assure that Alaska's seafood stays frozen and keeps moving," he says.
It took the efforts of a whole network of logistics professionals to make the purchase and delivery happen. Thanks to Lynden's diverse group of companies and experienced vendors, the containers traveled from factory floor to exporting port, and from chartered ship deck to awaiting barges in Western Alaska. The many hands that made light work include:
Lynden Logistics providing in-country support at the point of export and customs clearance at the point of entry;
Alaska Marine Trucking providing stevedoring and crane professionals for the offloading;
Bering Marine, Dunlap Towing and Western Towboat moving the containers to the various seafood markets;
And Alaska Marine Lines for providing the many varied seafood services to our customers.
The containers are now at work moving seafood, groceries, and temperature-sensitive products. They join AML's extensive fleet of dry vans, flats, tanks, and open-tops and will serve customers for many years to come.
Topics from this blog: Lynden Seafood Alaska Temperature-Controlled AML Featured