Alaska Marine Lines celebrated the launch of its newest barge, Skagway Provider, at a ceremony July 7 at Gunderson Marine in Portland, Ore. where the vessel was constructed. The heavy deck cargo barge will make its maiden voyage from Seattle to Southeast Alaska July 29 and will begin serving Alaska Marine Lines customers on the Seattle to Southeast Alaska route.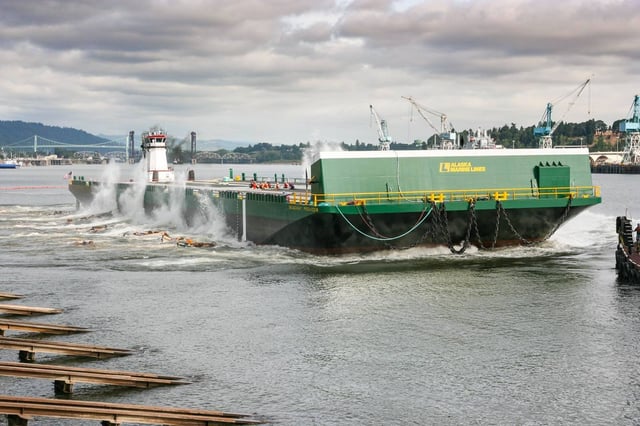 Photo credit: www.facebook.com/gbrxcompanies
"We are proud to offer our customers additional capacity between Seattle and Southeast Alaska via the Skagway Provider," says Alaska Marine Lines President Kevin Anderson. "It represents a significant investment in our Southeast Alaska service. Most Southeast communities have no land-route link with either the Lower 48 or the rest of Alaska. Virtually everything comes in by water – cars, heavy equipment, food and medical supplies – so providing reliable, efficient and safe equipment to serve our customers is extremely important to us."
The Skagway Provider's 360' x 100' x 22' hull has capacity for 13,200 tons of cargo or about 800 20-foot containers. It is in the same class as Alaska Marine Lines' barges Sitka Provider, Southeast Provider and Stikine Provider. Gunderson Marine has been a long and valued supplier, constructing 16 barges for Alaska Marine Lines over the past 18 years and continuing to invest in efficiency and new technology.
Alaska Marine Lines offers twice weekly barge service to Southeast Alaska including Juneau, Ketchikan, Petersburg, Sitka, Haines, Skagway, Wrangell, as well as twice weekly service to Central Alaska, seasonal service to Western Alaska, and bi-weekly service to Hawaii. Charter services are also available. Current sailing schedules can be viewed online at www.lynden.com/aml/barge-schedule.html. Alaska Marine Lines is part of the Lynden family of companies.