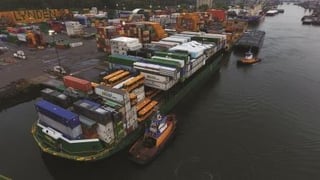 Students on the Kenai Peninsula are riding in style thanks to new Apple Bus Company buses delivered via Alaska Marine Lines. "We moved 88 buses from Seattle last Spring," explains Matt Jolly, Alaska Marine Lines Central Account Manager.

Apple Bus Company is a pupil transportation provider based in Missouri. Apple's 10-year contract with the Kenai Peninsula Borough School District is expected to save the school district around $1 million over the next decade compared to the previous contract with another vendor. The buses also feature improved heaters and safety signage.

The first batch of 10 buses were driven to Seattle and loaded at the Alaska Marine Lines Seattle terminal for the voyage to Whittier. School district drivers picked them up from there and drove to the bus barn in Soldotna. "We secured the buses on flats and put them up in the racks on the railbarge or loaded directly in the key if space was available," Matt explains.

Alaska Marine Lines also moved over 180 school buses the previous year for the Anchorage School District. "We are happy to support Alaska schools and students by moving the buses where they need to go," Matt says. "Wanema Arndt of the Kenai Peninsula Borough School District even went to Whittier and watched our crew work one of the inbound barges."

Matt commended the operations crews in Seattle and Whittier for making exceptions for the bus deliveries. "Customers don't typically pick up freight in Whittier," he says. "We're not set up with customer service people there. It's a handful of operators and a mechanic essentially. It took a concerted effort to communicate between the Seattle terminal and Whittier pro numbers for each voyage so appropriate paperwork was on hand to properly deliver the buses. A big shout out to all of the operations people who made this happen."
Topics from this blog: Alaska Oversized/Heavy Haul Ocean Community AML