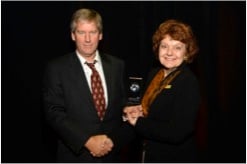 LTI, Inc. and its Milky Way division joined a very short list of nationally recognized companies as a recipient of an Environmental Protection Agency (EPA) 2013 SmartWay Excellence Award. The company ranked in the top one percent of partners with superior environmental performance.
LTI, Inc. earned the top score among all the large tanker fleets in the U.S. based on its carrier performance for fuel economy, payload, idle time and emissions equipment. LTI, Inc. President Brad Williamson accepted the prestigious award at a ceremony in Denver (pictured) from Joann Jackson Stephens of the SmartWay Transport Partnership.
"I am extremely proud of this award and of our entire team. It is the greatest environmental achievement a trucking fleet can receive, and it validates our ongoing efforts to make our operation the most efficient it can be," Brad says.
The EPA award honors partners that move goods with the lowest levels of CO2 and other emissions. Fleet size and impact were also considered. Out of the 37 companies selected, LTI, Inc. was one of only two carriers receiving awards in the liquid- or dry-bulk commodities category. LTI, Inc. is now included as an industry leader on the Excellence Award List.
LTI, Inc./Milky Way became a SmartWay Transportation Partner in 2010. Sister company Lynden Transport became the first Alaska trucking company to join SmartWay in 2008, and Lynden companies Brown Line, LLC and Alaska West Express are also members.
LTI, Inc. and Milky Way were recognized as recipients of the Environmental Protection Agency Excellence Award.