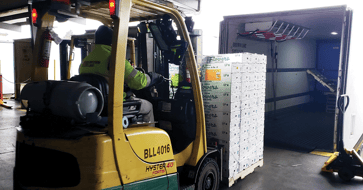 Brown Line's 'bread and butter' is the I-5 corridor from Washington to California. Four days a week drivers make the trip hauling fresh and frozen fish, chicken and other refrigerated products up and down the coast.

"We also haul some lesser-known types of freight, like sea urchin and Kombucha," explains Riley Rosvold, Brown Lines Sales Manager. The round, spiky creatures are harvested for the eggs inside, called roe, which is used in sushi. Brown Line is the only carrier in the Pacific Northwest trusted to carry the high-value, temperature-sensitive freight.

Divers bring the urchins to the surface during the winter months and they are delivered to Brown Line for transport to Oxnard and Los Angeles, CA. They are then processed and the roe is flown to Japan.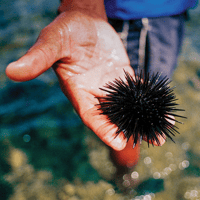 "We are diversifying our freight hauls," Riley says. "In the past, Brown Line has been reliant on the seafood industry, but now we are moving into more dairy and vegan products." Offering both truckload and LTL service throughout the U.S. and Western Canada, Brown Line provides companies with a variety of delivery options.

"Natural foods businesses are turning to us for reliable and safe delivery of yogurt-based drinks, vegan protein drinks and probiotics like Kombucha fermented tea." Every Thursday, Brown Line drivers pick up approximately 30,000 pounds of LTL freight from Yakult USA in Fountain Valley, CA and deliver to locations throughout the Pacific Northwest and Canada, including grocery stores in Oregon and Washington.

"Our freight is extremely time-sensitive due to short shelf life and expiration dates, so we have to be vigilant about traffic, deadlines and equipment," Riley explains. "Many customers shipping fresh and chill products have sell-by dates which are less than a week after production. It is a testament to our driving teams and dispatchers that our customers trust us to deliver their products at the peak of freshness and quality – especially in the congested Los Angeles area. Routing our trucks efficiently and effectively is imperative."

Jon Morris credits Brown Line with the successful startup of his company Ocean Life Enterprises of Anacortes, WA last year. "Not once during the entire season did we fail to deliver on time," he says.

Last year Brown Line took delivery of 12 reefer trailers featuring the TransTex Edge TopKit Aerodynamic System which provide a 5.5 percent improvement in fuel mileage. In addition, 17 fuel-efficient Freightliner Cascadia Trucks were purchased that average 8 miles per gallon. The state-of-the-art equipment helps drivers get the job done, protects the fragile freight and gives customers confidence in the company. "We get feedback that our clean and modern equipment is one more reason customers place their trust in us," Riley says.
Topics from this blog: Seafood Brown Line Grocery Chill and Frozen LTL Temperature-Controlled Truckload Ground