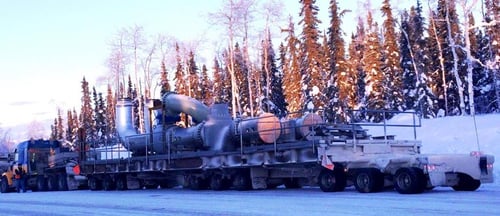 Lynden companies are known for providing customers with the latest, most versatile equipment and a hydraulic platform trailer acquired by Alaska West Express last year is proving to be useful for a variety of projects in Alaska. Manufactured by German company Scheuerle, the trailer is built to handle long and heavy loads. According to Alaska West Express President Scott Hicks, the trailer carries the weight over instead of between the axles, requiring less steel to support the load and increasing payload.
The trailer was a keystone of Alaska West Express' recent pipeline project in Alaska (see photo above) and has greatly increased heavy haul capabilities. "Besides the 100-ton payload, the manufacturer provides a program to determine estimated axle weights for permitting," says Steve Willford, Project Manager. By inputting load data, the program calculates the projected load distribution on the axles. This data can then be submitted to DOT for overweight permits. The program has proven extremely accurate and saves valuable employee time as well as reducing liability.
"The trailer hydraulic readings and the program have increased our capability to forecast and increases our confidence that we are exactly within limits for road and bridge crossings with our loads," Scott says. Alaska West Express drivers and shop and maintenance employees participated in a three-day training program to learn the specialized features of the trailer once it arrived last year. The first load it carried was a survey boat 83 feet long and 23 feet wide from Prudhoe Bay to Anchorage.
Topics from this blog: Alaska West Express Alaska Oversized/Heavy Haul