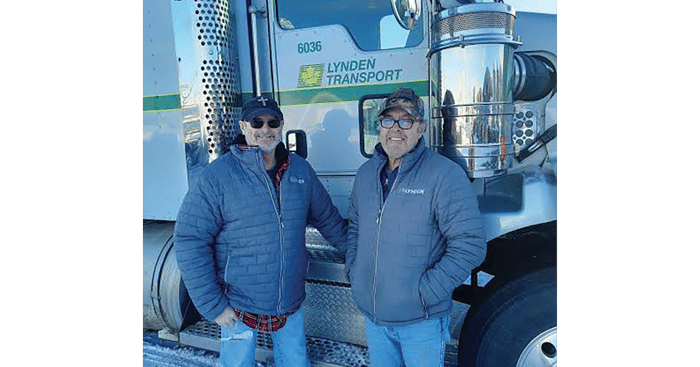 Drivers Geoff Struthers (left) and his guardian angel Boyce Kucherean.
This winter Lynden Drivers Boyce Kucherean and Geoff Struthers departed Whitehorse with Cyanide loads headed to the Victoria Gold Mine near Mayo, Yukon Territory. After their layover in Mayo, they were scheduled to go into the mine escorted by a pilot car. Soon after they started their journey up the mine road, a life-threatening medical emergency occurred.
Geoff was following Boyce up to the mine when he called on the radio to tell Boyce that the temperature in his truck felt like 100 degrees. He also sounded confused. When Geoff called again and said his shoulder and arm were hurting, Boyce recognized the signs of a heart attack as he had experienced one himself. Boyce located the supply of aspirin that he keeps in his truck and soon arrived to administer it to Geoff. He then called the pilot car back and asked the driver to transport Geoff to the nearest hospital. Nicole Anderson from Haldane Services took Geoff into Mayo which required backing down the mountain road to get to a turnaround point on the road.
Once at the hospital they arranged for transport by plane back to Whitehorse. But when the plane arrived it was grounded due to mechanical issues. A second plane was sent, and Geoff finally made it to Whitehorse for care. He was later transported to Vancouver where he spent several days recovering after suffering a heart attack. "The doctors credited Boyce's quick thinking and understanding of the symptoms with saving Geoff's life out there on the mountain," says Bill Mihalcheon, Service Center Manager of Canadian Lynden Transport. "The Whitehorse Service Center is very proud of Boyce and thankful to Nicole for the safe outcome for Geoff. He is currently on medical leave and anxious to get back on the road."
Topics from this blog: Canada Lynden Employees Lynden Transport Featured