Alaska West Express and Alaska Marine Lines recently completed a nine-month multimodal move of pipe skids and other freight for an oil pipeline customer. Thirty loads originated at a manufacturer in Bellingham, WA and required marine and surface moves for final delivery to Trans-Alaska Pipeline Pump Station #5 between Deadhorse and Valdez. The pump station is an important relief station to slow the flow of oil as it descends from the Brooks Valley.
"This project began as a smaller move last summer and it continued to develop as the customer learned of our heavy haul and other capabilities," says Steve Willford, Alaska West Express Project Manager in Fairbanks.
The project included three oversized loads which required transfer to a shuttle barge in Bellingham (see above) and on to the mainline barge in Seattle for eventual delivery to Whittier and Valdez. "They were odd-ball pieces, over-dimensional and overweight – not easy to move over the road," Steve says. Once they arrived in Valdez, Alaska West Express drivers Casey King, Andrew Wessels, Gary Ridall and Scott Vaughan (driving push truck) took over the delivery to the pump station. Jack Binder was the load supervisor for the Valdez shipments. Other loads arrived in Anchorage before the sailings stopped for the winter and were delivered by drivers Ken Seipel, Brian Ambrose and Del Shagen.
Lynden is known for getting the job done and providing extra servic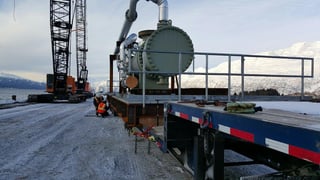 es when needed. The final loads were delivered to the site when the installation contractor was on winter shutdown, so Alaska West Express arranged a jacking crew for unloading. Through careful coordination and planning, the arrival of the final loads was synchronized with the arrival of the jacking crew. "When we pulled away from the site, the loads were up off the ground where the customer wanted them. We were happy to provide literally everything they required," says Jack.
Good weather helped the project stay on track as well as a new Scheuerle hydraulic highway trailer acquired by Alaska West Express last year. The trailer is capable of carrying 100 tons and was put to work carrying the 84-ton back-pressure module between Valdez and the pump station. But the real key to the project's success, according to Steve, was teamwork between Alaska West Express operations in Tacoma, Anchorage and Fairbanks and Alaska Marine Lines crews handling the barge moves in Seattle, Bellingham and Anchorage. "Our joint capabilities and smooth working relationships really came together to provide our customer with a seamless, door-to-door transportation package."
Topics from this blog: Alaska West Express Alaska Energy Oversized/Heavy Haul Multi-Modal AML