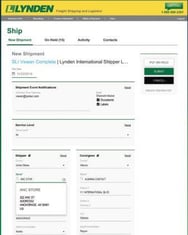 The year 2017 will usher in new options for Lynden customers in online shipping tools. Lynden is making it easier than ever for customers to initiate shipments with Lynden by replacing EZ Shipping with enhancements to EZ Commerce. These changes are part of an entire suite of online enhancements being developed for customers.

"This is part of an effort to make it quicker and easier for our customers to interact with Lynden," says Ann Suver, Lynden Vice President, Information Technology. "We are creating a set of tools to drive a shipment from quote to payment. The new version will be familiar to our customers but with many exciting new features."

The new functionality within EZ Commerce allows customers to initiate a shipment with Lynden and maintain a set of templates and contacts to make regular shipping easier. A filtering-search and an "on-hold" feature allow customers to prepare shipping forms ahead of time and send them when ready.

When EZ Shipping was first introduced, users were directed to a third-party site to send shipments. Now Lynden can service customers from end to end allowing future upgrades to EZ Commerce. EZ Commerce continues to allow customers to track and trace shipments and generate documents and activity reports.

A group of employees who regularly work with customers from Alaska Marine Lines, Lynden Transport, Lynden Logistics and other Lynden companies served as advisors for testing and feedback on the program. Project Manager Rob Chapman met with the group as it tested the program with customers to fine-tune it before completion.

"This was extremely helpful to identify key areas to improve. Many employees and customers shared ideas and suggestions," Rob says. "We made strides to streamline our administrative and operations processes while building this software to incorporate customer and employee feedback. There is a lot of complexity involved when working with multiple companies offering multiple modes of transportation. We are proud to offer a program of this quality to our customers."
Topics from this blog: Lynden