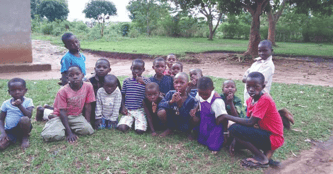 When Lynden Air Cargo finished its projects in Democratic Republic of Congo last year it decided to give back to the people of Uganda. Using proceeds from the sale of surplus equipment, Lynden Air Cargo Director of Maintenance James Schneider contacted Godfrey Kitagena, General Manager of Air Serv, a Lynden partner, to find a worthy non-profit organization.

Godfrey found a school taking care of orphaned children, Children Safe Uganda, and used the money to buy and donate food items and bedding. "We delivered the donations to the school in Kajjansi," he says. "We bought rice, beans, rice flour, cooking oil, blankets, mattresses and bar soap for the school which houses approximately 450 students. From what we saw and heard, the donation was very timely and the teachers and students were deeply grateful for the donation, especially during the pandemic. Everyone appreciated Lynden's generosity and kindness."

Children Safe Uganda, formerly Bweya Children's Home, opened in 1968. It serves orphaned and abandoned children and those needing rehabilitation.