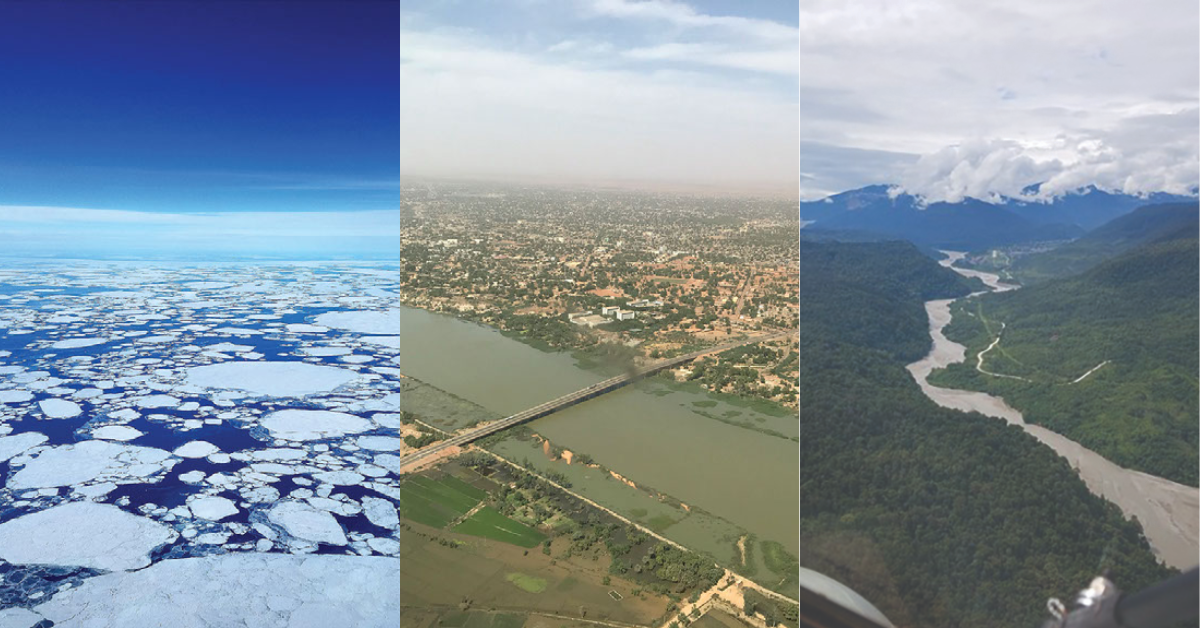 View from the cockpit, left to right: Hudson Bay, Canada, the Niger River, Niamey, and Tabubil, Papua New Guinea.

A Lynden Air Cargo crew completed a full circle of the globe in under two weeks in February. "This doesn't often happen in our fleet, but it's a testament to how much of the globe we can cover in a short period with one crew," says Dan Marshall, Charter Manager. "It was no small task with all of the COVID-19 restrictions on top of typical logistical challenges that had to be overcome with each country. It makes this an extra special accomplishment."

Captain James Wallace was joined by Mason Gaines, Jimmie Mizell, Ronald Pine and James Love for the noteworthy flights. The trip began in Kelowna, B.C. after installing external fuel tanks used for longer Trans-Pacific flights. From Kelowna, the crew flew to Maui, HI and from there to Nauru, a tiny country in Micronesia, followed by Brisbane, Australia, to Tabubil, Papua New Guinea (PNG), to Port Moresby, PNG, to Darwin, Australia, to Bali, Indonesia, to Gan, Maldives, to Entebbe, Uganda, to Niamey, Niger, to Las Palmas, Gran Canaries, Spain, to Bangor, Maine, and the crew made its last stop in Anchorage. The "live leg" for the flight was from Brisbane to Tabubil, PNG to transport a critical switchgear to replace one that had shut down the Ok Tedi Gold Mine. The gear was too tall to fit in any other aircraft capable of landing at the remote runway there. The flight gave the Lynden crew the opportunity to swap out an aircraft that was due for a heavy maintenance check in Niamey, Niger.

"Our customer helped us obtain landing permissions on Nauru for a tech stop between Hawaii and Brisbane," Dan explains. "All of our normal airports denied entry due to ongoing COVID-19 restrictions. Captain Wallace and his crew overcame so many hurdles with pandemic restrictions, including hotel lockdowns, to deliver a challenging load to a very remote destination in PNG."

The Lynden flight operations and crew operations teams found unique solutions, always staying ahead of the aircraft with hotels, catering, fuel, and anything else they needed to keep pushing forward. The maintenance team provided the critical external tank installation in less than 24 hours in Kelowna to maintain the initial schedule as close as possible. "This is the first time in recent memory that a single crew has fully circumnavigated the globe with our own aircraft," Dan says. "In addition to the flight crew, our operations and maintenance production teams got all the pieces to fall together to make this trip successful."
Topics from this blog: Lynden Air Cargo Project Logistics Air International