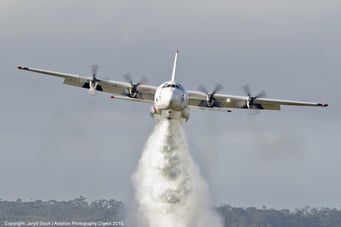 Lynden Air Cargo is operating its L-382 aircraft on behalf of the Coulson group of companies to fight fires for the U.S. Forest Service this summer. As a sub-contractor, Lynden is providing a crew and aircraft from June 5 through Sept. 1.

"As of mid-June, we have flown 49 sorties and 62 drops everywhere from the rim of the Grand Canyon to the Mexico border," says Lynden Air Cargo President Rick Zerkel. "We have dispersed a total of 189,705 gallons of retardant on various fires in New Mexico, Arizona and Southern California."

Lynden fought the Reservoir and San Gabriel wildfires near Los Angeles in June, helping to contain both, as well as others throughout the southwestern states. In September, the L-382 will return to Australia where it will continue fighting fires there. "We are proud to be helping in this effort and proud of our Lynden flight and maintenance crew on the front lines." Rick says.