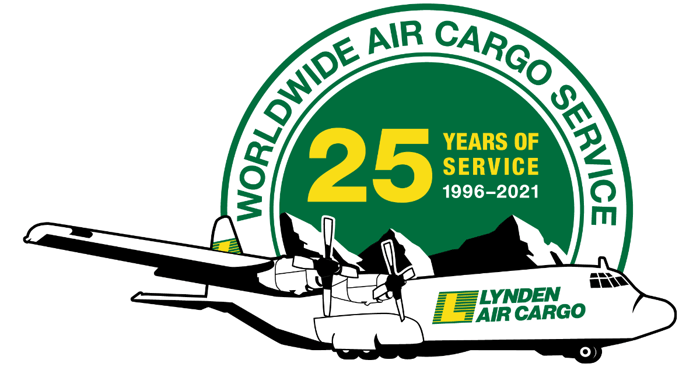 Ethan Bradford is one of Lynden Air Cargo's most senior employees still on the job. "I am very proud and thankful to be part of the Lynden family to support 25 years and 200,000 hours of Hercules aircraft operations for Lynden Air Cargo," he says.

The company is now the largest civilian operator of Hercules aircraft in the world and is known for flying disaster relief missions and supporting the oil and gas, construction and mining industries.

"Our airline startup team brought on in the first few months of 1997 (see photo above) were faced with many challenges to get our FAA 121 Operating Certificate," Ethan explains. He is now Vice President of Technical Operations, but started as a Chief Inspector. The challenges included conforming the first two L382G aircraft from Safair in South Africa, setting up all the required training, maintenance programs, operations control, ground equipment and then coordination with the FAA on approving manuals and conducting proving runs to get a 121 certificate.

"At around this same time, we received our 137 certificate for oil spill response," Ethan says. "I commend everyone who was involved in the birth of the Lynden Air Cargo airline."

"I don't think any of us realized what we had signed up for: long hours and few days off while we were building this airline," says Roberta Avila, Manager of Crew Operations. "No one did just one job, we all worked together to accomplish the tasks that were required to get the L382 and the L188 on our certificate. One of my proudest moments was when we were granted our operating certificate for 'the little airline that could.' It was truly remarkable, and the adventure was just beginning."

Although some of those hard-working people have retired, passed away or moved on, some are still with Lynden Air Cargo today, contributing to safe and efficient operations around the world. They are: Gregg Thompson, Maintenance Station Manager who started in 1995; Joe Anderson, Special Projects Coordinator in 1996; and in 1997 Captains Jonathan Sluka, Tom Lindberg, Jason Wells, Pat Madland and Burr Maly; Clint Swanson, Flight Engineer; Roberta Avila; Ken Welch, Logistics/Purchasing Manager; and James Schneider, Director of Maintenance.

"I can quite clearly recall in the first few months of my employment with Lynden Air Cargo asking myself, 'What have I done?'" James recalls. "Now, 25 years later and looking back, it's 'look what we've done, and look where we've been.' The acquaintances we've made and long-term relationships we've established worldwide have been an amazing slice of the Lynden experience."
Topics from this blog: Lynden Lynden Air Cargo Disaster Relief Air