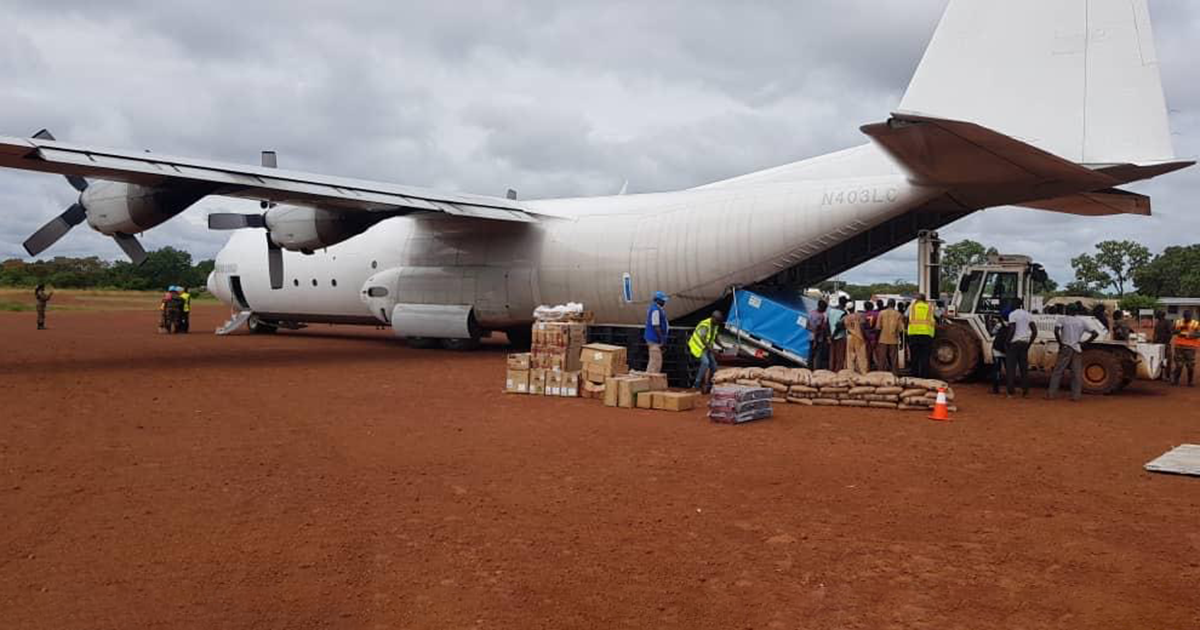 The United Nations World Food Programme (WFP) asked Lynden to fly its L-382 aircraft to the Central African Republic (C.A.R.) to assist after violent clashes between two armed groups left many dead and injured. Over a two-week period, Lynden Air Cargo crews made 18 trips to deliver 600,000 pounds of food, shelter and vehicles to 25,000 displaced people in Birao.

"This work was very special as our crews volunteered to go and rallied to get it done while showing compassion for the humanitarian efforts going on in this region," explains Jim Davis, Vice President of Commercial Operations. "We received the initial request from the WFP to fly six trips in the C.A.R. which is a country in Africa that we had yet to operate in. Our aircraft based in Accra, Ghana, was ready to respond to the request." After the six trips, the WFP immediately requested 12 additional flights. This was not the normal cargo Lynden moves, but critical supplies going to a refugee camp so remote that very few aircraft types can operate on the runway.

"We have the best crews in the world, no question. This project gave us all a great sense of pride in what our company does around the world," Jim adds. "To see the hands-on efforts and genuine enthusiasm for the work the crew accomplished was heartwarming."

Most employees stayed well past their scheduled duty days to see the project completed despite weather delays that extended beyond the original departure date. "It truly was a humbling experience volunteering for this work," says Captain Kyle Zerkel.

"This crew embodies the Lynden Everyday Hero spirit in parts of the world we never imagined we would serve when we started the company over two decades ago," Jim says. "Thanks to the following employees for their efforts during this campaign: Aleksey Alekseyev, Bill Kenney, Philip Ansley, Kenny Horwood, Milton Beaver, Leso Tshimologo, Rock Molanga and Kyle Zerkel."

"We could tell that the Lynden Air Cargo pilots and ground staff were driven by the humanitarian cause. They were experienced with the challenging environment and their knowledge of the French language was a big plus in communicating with the local staff. Thank you for the excellent effort," says Sandra Legg, WFP Representative in Bangui, C.A.R.