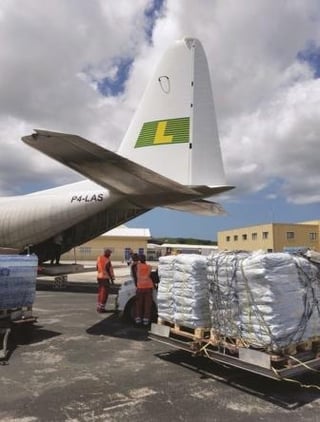 Lynden Air Cargo answered the call on Sept. 8 to mobilize relief flights for Hurricanes Irma, Jose and Maria. "We began flights into the Caribbean on Sept. 17 once there was a clear identification of needs," explains Rick Zerkel, Lynden Air Cargo President. Lynden is currently under contract with Diplomat Freight Services (DFS) to provide continued air support for sites in the Caribbean.

"Logistics have been a challenge as there has been limited information on which airports are open and have uncontaminated fuel supplies," Rick says. "Some of the islands have completely lost power. Hotels have also been hard to find in some of these locations because they are still being used as shelters for families who cannot go back to their homes or sustained damage during the storms. We have also had to pause flying when Hurricanes Maria and Juan hit the Caribbean a second and third time – on occasion flying around the storms to get to any locations we could."

Lynden Air Cargo has been conducting flights through DFS, the Federal Emergency Management Agency (FEMA), the Red Cross and other supporting agencies and governments to bring in food, water, trucks, fuel and other disaster response supplies. "We anticipate we will be flying continuously for quite some time – there is no indication that it will be slowing down any time soon," Rick says.

As of late September, Lynden aircraft have flown to the following locations based out of Curacao, Aruba and Miami: St. Martin, San Juan, St. Thomas, St. Kitts, Anguilla, British Virgin Islands, St. Croix, Grand Turk Island and Providenciales Island (a part of the Caicos Islands). The company is especially grateful to their flight crew and flight operations staff who have performed admirably while working under constantly changing conditions with limited information.