Lynden is recognizing employees who make a difference every day on the job and demonstrate our core values, Lynden's very own everyday heroes! Employees are nominated by managers and supervisors from all roles within the Lynden family of companies. Learn more about the people behind your shipment.

Introducing Ethan Bradford, Technical Services Manager at Lynden Air Cargo in Anchorage.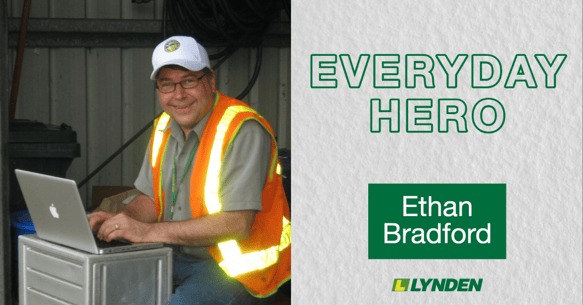 Name: Ethan Bradford

Company: Lynden Air Cargo, 22 years

Title: Technical Services Manager

Hometown: Anchorage, AK

Favorite Movie: Back to the Future

Bucket list destination: Space

For fun: Flying, photography, building a new home

Superpower: Solving the challenges encountered each day in airline operations and searching for new global opportunities. Ethan is pictured in his field office in Papua New Guinea at the startup of Lynden Air Cargo's project there in 2012.

How did you get your start at Lynden?
I started as an airline startup consultant in December of 1996, then became an employee in January 1997. My positions have included airline certification consultant, then chief inspector (a required position for airline operations). I have maintained the position of Technical Services most of my career at Lynden Air Cargo.

What is your favorite or most rewarding part of your job?
Solving the challenges and opportunities we encounter each day in our airline operations and expanding the business.

What has been most challenging in your career so far?
Establishing a business and airline in Papua New Guinea. Once we were immersed into the culture and mindset of this developing country it became easier.

Most memorable project?
Acquisition of aircraft serial number 5225. It involved a long path of twists and turns in foreign places before we were able to acquire this young aircraft.

What changes have you seen over the years?
We started out only operating in Alaska with a very simple infrastructure and level of sophistication. We have grown into a mature, more complex global operation that involves thousands of different challenges and opportunities to meet and solve every day. The uniquely experienced and dedicated people that work for Lynden Air Cargo are the key to our success in overcoming these challenges we encounter. We have come a long way from startup and we will continue to grow and learn to meet our customer's needs, and do it safely and efficiently every day.

You have been singled out for being an expert at startups. Do you consider yourself skilled at getting programs off the ground?
Yes, I thrive on exploring new ground that provides Lynden Air Cargo opportunities for growth, but not without the team of professionals that work at Lynden Air Cargo that make it happen in the end and deliver to the customer.

Can you tell us about your family?
I just celebrated 35 years with my lovely wife, Lori. We have two grown children, Nicholas and McKenzie. My wife's life's work has been dedicated to teaching. She recently retired from the Anchorage School District after 27 years of running a top dance program. Her biggest gratification in her work is seeing the 17,000 some students who have moved on in life to become mature and productive adults in our world. Our son, Nicholas, who worked in the film and photography business in Alaska, went on to finish his degree and is now working on his passion producing human interest documentaries in Hollywood. Our daughter, McKenzie, graduated this last spring with her Masters in Environmental Science and Management from UCSB Bren School. Her passion is to solve the world's challenge of giving everyone access to clean water for better health and growth, of which we take for granted. It all started after a trip to a village in Cameroon for a water project, learning how disadvantaged many people are. We are proud of them and know they will do well in our world.

How do you spend your time outside of work?
Well, we bought a lot on the hillside in South Anchorage and started building a house, which has become my hobby. It started with my father-in-law, who is an architect, handing his daughter plans to a unique and modern home design. My wife handed the plans to me to build it. We have built it ourselves, out of pocket, and with many unique challenges and opportunities along the way. It has been a rewarding experience. Besides that, I love to explore and share the world with my family. When I have had the time, I love to fly, which is how it all started. My dad taught me how to fly when I was 15. I've been glued to aviation ever since.

You have taken many great Lynden photos over the years. Is photography a hobby as well?
I have always loved curating the images of life, of work, and of family. I have over 100,000 photos in my iPhoto library!

What would surprise people about you?
That I can't dance even though I married a dance teacher!

What are your thoughts about working for Lynden and being a part of Lynden Air Cargo?
I can't think of enough words to describe how honored and blessed I feel to work for such a great company, more importantly, the people that make it a family company, and that starts from the top. It is the people of Lynden that makes Lynden who we are as a company. Each one of us contributes to the success and purpose of why we do what we do every day. We do it with passion, we do it efficiently, we do it safely, we do it for the customer, internal or external – we do it every day because that is what we do. I am proud to work for the Lynden family of companies.
Topics from this blog: Lynden Air Cargo Lynden Employees Everyday Heroes