Lynden is recognizing employees who make a difference every day on the job and demonstrate our core values, Lynden's very own everyday heroes! Employees are nominated by managers and supervisors from all roles within the Lynden family of companies.

Introducing Alex Blasich, Intermodal Coordinator at Alaska Marine Lines in Seattle, Washington.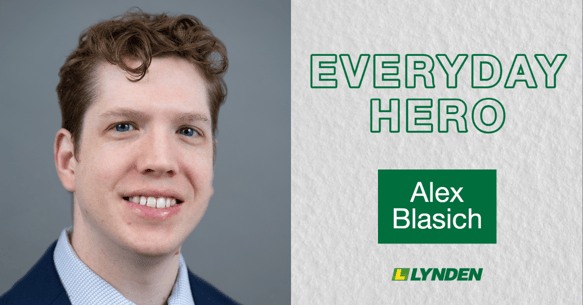 Name: Alex Blasich

Company: Alaska Marine Lines

Title: Intermodal Coordinator

On the Job Since: 2011

Superpower: Unlimited patience

Hometown: Mercer Island, WA

Favorite Movie: Robin Hood: Men in Tights

Bucket List Destination: France

For Fun: Reading and crafting

How and when did you start working for Alaska Marine Lines?
I started working at Northland Services right out of college as a summer seasonal receiver in what's now the Y5 breakbulk office. This was my first 'real job' and I was lucky enough to stay on as a permanent hire after that first summer. I helped the office transition to the AML/Lynden system when they acquired Northland. In 2016, I did about a 5-month stint at the Alaska West Express Tacoma dispatch office before coming back to AML. It gave me a big appreciation for how the trucking side of transportation works, but I think AML's the best Lynden company!

What is a typical day like for you?
My workday as Inside Sales & Intermodal Coordinator varies quite a bit. I help our large established customer accounts, new businesses, and personal parties ship their cargo outside our main service area in the Seattle area. Handling shipments from origin pickup to final destination gives a great sense of accomplishment and has expanded how I view AML's place as a vital part of our customer's business and lives.

What has been most challenging in your career?
Most challenging has been learning to work with the military. Their use of their own acronyms is like learning another language.

What are you most proud of in your career?
I'm most proud of all the receiving office staff I've trained over the years. With the seasonal nature of our business, I saw many seasonal temps and full-time new hires come through the receiving office. I enjoyed having a chance to teach them not only how to receive cargo, but how it fits into our business and how everything can be new, different, and an opportunity to learn.

Can you tell us about your family and growing up years?
I was born in Houston, TX and my family moved up to Washington when I was 5. I would say I grew up here and my parents still live on Mercer Island where I went to elementary through high school. I have a brother two years younger than me and both my parents come from small families so we're a tight knit group. I graduated from Washington State University where I met my wife Victoria in marching band (I played the trumpet and she played the clarinet). We've dated since college and were married in 2015. We now live in Seattle with our two cats.

What was your first job?
My very first job was at Sahara Pizza. Working for a pizza place made me a bit of a pizza snob for a few years, but now I enjoy any type of pie. My favorite pizza is meat lovers with buffalo or hot sauce along with the marinara.

What would surprise most people about you?
I'm probably one of the few millennials who has worked at the same company since finishing school and starting a full-time job.

How do you spend your time outside of work?
When not working I enjoy spending time reading alongside my wife. She's an avid reader and no matter how I try there's no keeping up with her. I also like to watercolor paint and craft.

What do you like best about your job?
My favorite part of my job is that everything is different. No matter how many seasons or years go by, there's always something new happening to learn about and help out with.
Topics from this blog: Lynden Alaska West Express Lynden Employees Everyday Heroes AML Featured