Lynden is recognizing employees who make a difference every day on the job and demonstrate our core values, Lynden's very own everyday heroes! Employees are nominated by managers and supervisors from all roles within the Lynden family of companies. Learn more about the people behind your shipment.

Introducing Aaron Delahoussaye, Driver at Lynden Oilfield Services in Prudhoe Bay, Alaska.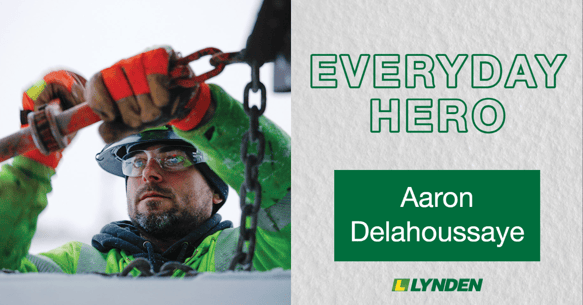 Name: Aaron Delahoussaye

Company: Lynden Oilfield Services

Title: Driver

On the job since: 1996

Superpower: Getting it done

Hometown: Palmer, AK

Favorite movie: Original Star Wars

Bucket list destination: Europe

For fun: Traveling with my wife

How did you start your career at Lynden?
I started my career at 22 as a warehouseman at Lynden Transport in Anchorage. I worked on the dock as I worked toward earning my Commercial Driver's License (CDL). I transferred to Prudhoe Bay in 2012 and was part of the transition to Lynden Oilfield Services (LOIL) in 2015. I am now a driver and haul everything from bulk chemicals to oversized freight on any given day.

What is a typical day like for you?
There is no typical day in Prudhoe Bay – every day is different. Everyone up here can pretty much do everything. That's what I like about it. You don't get stuck in the same routine. My co-workers have nicknamed me the horse as in "work horse."

I was part of the Doyon drill rig move of 'the beast' from Canada to Alaska and have hauled a lot of drill rig components over the years.

What has been most challenging in your career?
The most challenging is probably being away from home and family for two weeks or more at a time. You miss out on a few things along the way. Although we have a regular two-week-on, two-week-off schedule, I've been away as long as six weeks for special projects.

Weather is also a challenge. Winters bring visibility issues, freezing temps and wind that suddenly comes out of nowhere. We have our winter gear to protect against frostbite and below-freezing temperatures, but it can be tough at times. One specific story that comes to mind is when we first started running the PistenBullys. We had one operator at LOIL and the other was a contracted operator that helped us with our first three trips to Barrow, AK. The contractor left the Slope because we thought our season was over when we got a call for two more loads. I was very new to operating the machines, but I followed the other driver on a 530-mile roundtrip across the Arctic Slope from Deadhorse to Atqasuk to Barrow and back to Deadhorse. We were on the trail for four days and made record time without any issues.

What do you like best about your job?
I love the challenges. From the freight to the conditions to the time schedules, every day is different. I'm always learning. Up here you get to be the teacher and the student every single day.

The animals we see around Prudhoe Bay also make the job unique. Since we are up on the coast at the very top of Alaska, we have had polar bears, grizzly bears, caribou and other wildlife come into the yard looking for food. Swans and geese come up in the summer to have their babies on the lake, then migrate south for the winter.

What are you most proud of in your career?
I'm most proud of my longevity with the company. To be able to say you've spent almost your entire working career with one company says something about you and the company.

Can you tell us about your family and growing up years?
I've been married to my beautiful wife Tomara for 22 years. She works for Alaska Airlines as a Flight Attendant. We have two awesome kids, son Kaden and daughter Hannah. They are off to a great start with their careers. So we just became empty nesters and are still trying to figure out what to do with ourselves with no kids in the house. I guess we can do whatever we want!

What was your first job?
My first job was with my grandpa. He owned a log cabin business. We would fly out to these remote locations and build cabins for customers with the challenges of no electricity, getting the building materials to the job sites and dealing with wild animals from time to time.

What would surprise most people about you?
I don't know if this is surprising, but I'm now in my 40s, and I've never broken a bone.

How do you spend your time outside of work?
A. We moved from Alaska to Las Vegas three years ago to be closer to family. Lately I've been working on our backyard, landscaping and hanging out by the pool. We're looking to get an RV and travel around the states. When we still lived in Alaska, I spent time snowmachining, hunting, fishing and skiing at Alyeska.
Topics from this blog: Lynden Employees Everyday Heroes Lynden Oilfield Services