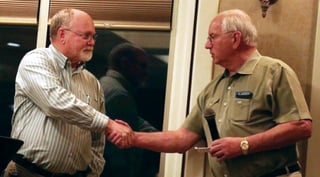 Bob Griggs likes to tell a good joke. His favorite is that he left Lynden last month due to the stress of worrying about being laid off. "I started as a vacation relief driver in 1974. Don Guthrie and Vic Jansen trained me to drive a truck and pick up milk with the expectation that I would be laid off in a few months," he says. "I've been joking about it for the past 43 years."

Bob retired last month after working for Lynden longer than any other Lynden employee besides Jim Jansen. "When I started, Milky Way was a division of Lynden Transport," he recalls. "I've worked for LTI, Lynden Logistics Services and Hawk Inlet Services over the years in addition to some short projects in Alaska. Wherever they needed me, that's where I would go. It's been a lot of fun and very challenging."

Bob says his most memorable project was making the impossible possible in Caldwell, ID about six years ago. "A dairy's milk hauler gave them seven days' notice of termination, so they called us for help. We told them we'd get it done, and we did," Bob explains. With just seven days to prepare to take over the new milk routes and location, Milky Way employees mobilized, pulling together supervisors, drivers and volunteers from throughout the company to travel to Idaho to learn the routes. "We rounded up equipment and interviewed, hired and trained 25 drivers in seven days. The customer thought there was no way we could do it, but we did. We now have a successful operation there. It was amazing teamwork."

Over four decades at Lynden, Bob said the biggest changes he's seen are the use of cell phones, the improvement in equipment and the increase in traffic. "If you were out on the road in the old days and someone needed to contact you, they called all the places on your route – weigh stations and dairies – and left messages for you," he says. "Now it's instant communication."

He also credits Lynden founder Hank Jansen for inspiring him years ago. "I'm fortunate to have known him and worked with him directly." Bob's advice for employees just joining the company? "Don't leave. You can have a great career at Lynden. If you need a change, take advantage of one of the many opportunities within the Lynden companies."

Bob has some retirement projects waiting in his woodshop like a stand-up paddleboard he is making from Paulownia wood. "I want to build a small boat eventually, so I'll start with this. It will either go in the fireplace when I'm done or I'll use it," he jokes. He hopes to use both on Lake Roosevelt in Eastern Washington this summer.

"Bob is just one of those people you could always count on," says Vic Jansen. "Good or bad he was there. It's been that way since I met him 43 years ago. We all appreciate the contributions he has made to Lynden."
Topics from this blog: Lynden Lynden Employees