This past fall, the 833D Transportation Battalion of the Army took a trip across the Duwamish River from their headquarters building in Seattle for a tour of Alaska Marine Lines. The Army has been a customer for many years, according to Alaska Marine Lines Military-Intermodal Coordinator Dawn Tompkins. "We ship everything anywhere from Texarkana, TX or Tobyhanna, PA to Eielson AFB. The tour was part of the Battalion's Professional Development Training," she says. "They are visiting the local carriers that transport cargo for the military contract. Seeing our operations and understanding what we do helps them better understand how their cargo is handled and transported."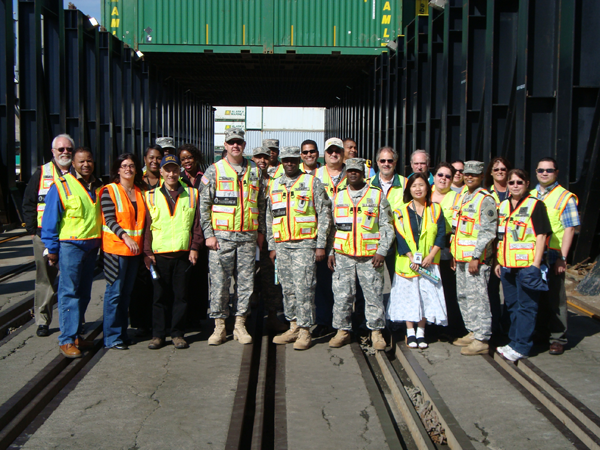 The tour included viewing cargo equipment designed and built by Alaska Marine Lines to improve the efficiency of hauling products like frozen fish, a slide show presentation and a chance to watch the loading of the rail barge.
"As a professional development training event, this was one of the very best that we've had to date," says Gerald Yale of the Department of Army Civilian (DAC). "Everything from the slide presentation in your conference room to the on-site loading/discharge operations of your barge were interesting and informative. Thanks again for all your time and effort in hosting the 833D U.S. Army Transportation BN." AML also hosted a tour in 2009 for members of the 833rd combined with a group from the Army's headquarters in Scott AFB in Illinois.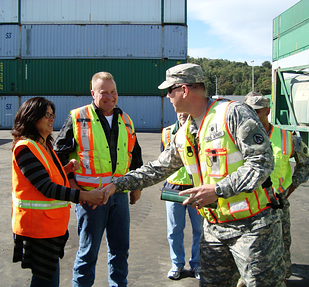 Lieutenant Colonel John Redinger presents the official coin of the 833rd Battalion to Dawn Tompkins and Mark Gaska (center) as a token of appreciation for the tour.
Topics from this blog: Government and Military AML