The Lynden family of companies was chosen as one of the Top 100 third-party logistics service providers (3PLs) by editors of Inbound Logistics magazine. Editors selected the companies from hundreds of contenders, choosing only those that offer the diverse operational capabilities and experience to meet readers' unique supply chain and logistics needs.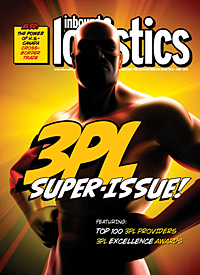 Inbound Logistics' Top 100 3PL Providers list serves as a qualitative assessment of service providers. Each year, editors solicit questionnaires from more than 400 3PLs, detailing the services they provide and their areas of expertise. The magazine also polls more than 5,000 3PL users with a similar series of questions to provide a counter-perspective of the forces shaping the industry.
"Whatever the company size – from Fortune 500 to small businesses – world-class logistics performance is crucial. It is impressive to see Lynden providing the kinds of solutions that companies large and small rely on to solve the tactical logistics issues of serving customers better, faster and more efficiently," says Felicia Stratton, Editor of Inbound Logistics magazine.
Lynden's logistical solutions range from remote arctic projects in the most difficult conditions to operating a national pharmaceutical warehouse network and supply chain to hospitals. Its multi-modal operations and familiarity with customers' materials is a distinct advantage in designing systems for the efficient flow and storage of material and information. Lynden's system designs include state-of-the-art technologies and processes that have passed SAS 70 standards, and its dedicated truck, marine sealift and air cargo capabilities are put to use in remote areas such as Alaska, Russia and Canada for a variety of customer projects.
"With our family of transportation and logistics companies, we offer global multi-modal services that set us apart from other 3PLs. Our inclusion on the Top 100 list underscores our unique position," says Alex McKallor, Lynden's Executive Vice President of Operations. "We measure our success by the success of our customers. Our logistics partnerships are based on open communications and an innovative approach to solving the most difficult logistical challenges. "
Inbound Logistics is the leading trade magazine targeted toward business logistics and supply chain managers. The magazine's editorial mission is to help companies of all sizes better manage corporate resources by speeding and reducing inventory and supporting infrastructure and better matching demand signals to supply lines.
Topics from this blog: Lynden Awards Project Logistics Multi-Modal