Looking to expand its services, Lynden Air Freight opened an office in Honolulu soon after the New Year in 1987. Lynden's first employee on the island was Marvalyn Mallette Ringling and, 25 years later, she is still there, answering phones, greeting long-time customers by name and showing the Aloha spirit Lynden is now known for.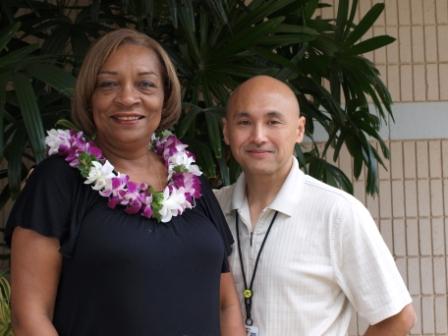 Photo: Marvalyn Mallette Ringling and Robb Guro
"We're not just a mainland company doing business in Hawaii, we were born and raised here," says Jeff Bell, Lynden's Director of the Mid-Pacific. "With local staff we have established solid, long-standing relationships. We take pride in being a niche player in a niche market."
Lynden, now known as Lynden Logistics, is commemorating its 25th anniversary of shipping to Hawaii with a celebration on Feb. 11th, 25 years to the day the office opened. More than 200 customers, vendors and employees will gather on the roof of the Lynden warehouse overlooking the Honolulu airport to ring in the next quarter century. Lynden Logistics commissioned a special poster (created by Lynden's own Julie Notarianni) to celebrate the 25th anniversary: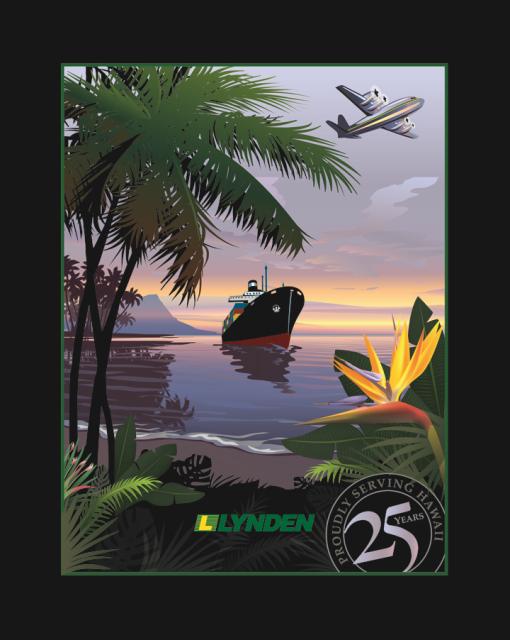 "Hawaii is a very competitive market, and customers may have four or five people trying to win their shipping business. They can afford to be picky," Ringling explains. "What sets us apart then and now is a good product and personal service. Customers want to talk to a real person on the phone who remembers them from six months ago or even six years ago. We don't ask customers to start a conversation with an account number. I make it a point to stay connected with them even if they haven't shipped with us in awhile."
Customers' expectations have certainly changed over the past 25 years. On the ocean side, they expect reduced transit times and quality along with quick cutoff times and perfect execution, Marva says. Supply chains on Hawaii have matured and if something goes wrong customers want to know about it right away so they can manage their inventory, products and employees. "That's why Lynden's EZ Commerce is such a huge selling point," Ringling says. "Many forwarders have not embraced the technology piece at this level."
Senior International Operations Agent Robb Guro has worked at the Honolulu office almost as long as Marva. Over 22 years, he's heard just about everything from those on the mainland. "Someone from the Midwest once asked if we had chickens running around in our office," he says. "Or why couldn't deliveries be made to a neighbor island – can't you just take the bridge to the next island? The comments were hilarious, but I was surprised how unaware people were about the geography and business atmosphere in Hawaii".
Separating fact from fiction just comes with the job, he says, but the real challenge is being the last state in the national time zone. "Time is against us here. We are opposite the east coast in time zones, so we must act quickly to get a shipment booked or respond to an email. We often need to answer requests and questions the minute we get in."
Looking back over two-plus decades, the Hawaiian freight industry has changed from construction to retail. "Back in the mid-80s construction was king," Ringling says. "Maui went through a growth spurt with a lot of hotel construction going on. We were moving a lot of oversized, heavy cargo. Now retail is king along with perishables like fruit and flowers."
In 1992, Lynden arranged for charters and emergency shipments when Hurricane Iniki ravaged the Hawaiian island of Kauai. Lynden was the first air freight forwarder to set up a regular office on the island to meet customers' and residents' needs. "We couldn't keep up with the calls," remembers Ringling. "We moved a ton of generators and a 10,000-pound shipment of roofing material from Honolulu."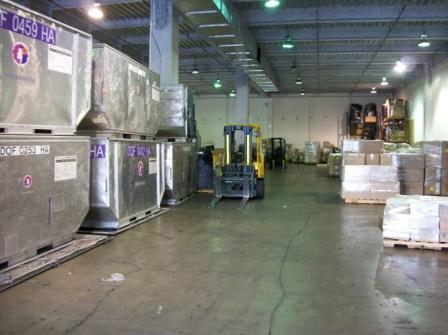 Photo: Lynden's Honolulu warehouse
In Hawaii, Lynden is known for caring about customers and the community. "We've kept the same name since the very beginning – not acquiring new companies and changing people and services," Ringling explains. "We don't brag about what we do, we just quietly go about our business."
Just last month, Lynden quietly donated the shipping of two containers of popcorn for the annual Boy Scouts popcorn drive. Lynden employees unpacked the containers and then assisted with the distribution of the popcorn to fundraising locations around Honolulu. Lynden also helped bring the Lost Heroes Art Quilt to the state capitol this fall.

"This is a family owned company, and I think people feel that sense of family, or Aloha, in everything Lynden does," Ringling explains. "After 25 years I still enjoy my job and each of our customers. Here in Honolulu, Aloha means more than just hello and goodbye. It means treating everyone with a spirit of harmony, affection and mutual respect."


Topics from this blog: Lynden Employees Hawaii Lynden Logistics Air