Exhibitor2010 Las Vegas
Lynden Logistics, part of the Lynden family of companies, will have multiple transportation specialists available at Exhibitor2010. Here are the top 3 reasons to visit our booth!
Reason #2 to visit Lynden at Exhibitor2010: Tradeshow Experts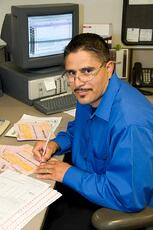 Our national trade show staff (who work exclusively on tradeshow shipments) puts every trade show shipment through an exclusive 15-point process that verifies the shipment is moving according to your instructions. From calling to confirm move-in and move-out times, to same-day proof of delivery, the experienced professionals at our national trade show office work behind the scenes to double-check each step of the transportation process.
You'll receive superior local service from any one of the more than 50 Lynden offices that manage your freight. Each office provides access to virtually every commercial transportation system, including airlines, integrated carriers and trucking companies - even charter aircraft.
Since we exhibit ourselves, we understand what companies expect out of their tradeshow and exhibit transportation. Visit us at Exhibitor2010 - Booth #1134 - to learn more!
Top 3 reasons to visit Lynden at Exhibitor2010:
• Exhibitor2010: Reason #1 - Experience.
• Exhibitor2010: Reason #2 - Tradeshow Experts.
• Exhibitor2010: Reason #3 - Useful Online Tools.
Topics from this blog: Lynden Logistics