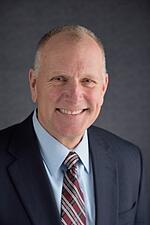 Lynden Logistics, a full-service freight forwarding and logistics company, announces the appointment of John Kaloper as President. Kaloper succeeds David Richardson who retired Nov. 30 after 35 years with Lynden.
Kaloper began his career with Lynden Logistics in 1984 as an account executive in the Seattle office. Over his 32 years with the company, John has served as district sales manager, regional manager, regional vice president and, most recently, Vice President of the company's America Division. His career has taken him on projects throughout Russia, Eastern Europe and Asia.
"John's three decades with the company, and his many leadership roles along the way, will serve him well as president," says Lynden Executive Vice President and Chief Operating Officer Alex McKallor. "With his broad knowledge of both operations and sales, I am confident that he will continue to position Lynden Logistics as a leader in the freight forwarding industry and ensure outstanding service to its customers."
Kaloper is a graduate of Central Washington University where he earned a degree in finance and business administration. Lynden Logistics is part of the Lynden family of companies.
Topics from this blog: Lynden Employees Lynden Logistics