LTI, Inc. and its Milky Way division received a third consecutive SmartWay Excellence Award from the U.S. Environmental Protection Agency (EPA). The EPA awards recognize the top one percent of SmartWay partners for superior environmental performance and leadership. LTI, Inc. earned a top score in the Tanker Fleet Category based on its exceptional fuel economy, payload, idle time and modern emissions equipment.
"We are extremely proud to receive a third Excellence Award from the EPA. Our entire team deserves credit for maintaining our high standards of productivity, efficiency and environmental stewardship," says LTI, Inc. President Jason Jansen. "We will continue our efforts to improve fuel economy and reduce emissions while serving our customers."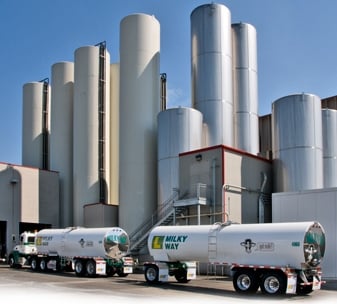 LTI, Inc. was one of 39 truck carriers to receive this distinction, representing the best environmental performers of SmartWay's nearly 3,000 Partners. The carrier awardees were honored at American Trucking Associations Annual Management Conference & Exhibition in Philadelphia, Pennsylvania today.
"EPA is pleased to honor these SmartWay Partners with a 2015 Excellence Award," said Chris Grundler, Director, EPA Office of Transportation and Air Quality. "SmartWay carriers work diligently to bring our families the goods we need each day, while contributing to a healthier, more sustainable future for our children."
LTI, Inc. specializes in the transport of liquid and dry bulk commodities, and its Milky Way division is a leading bulk milk hauler in the Pacific Northwest. The company uses the most efficient engines available, lightweight equipment with enhanced aerodynamics, automatic tire inflation systems and onboard computers to manage highway speed, progressive shifting, best routing options and idle times. Drivers are trained on these systems to better understand the impacts and effects while driving.
EPA's SmartWay Transport Partnership empowers businesses to move goods in the cleanest, most energy-efficient way possible, while protecting public health and reducing environmental impacts. Since 2004, SmartWay Partners have saved 144.3 million barrels of oil and $20.6 billion in fuel costs. SmartWay's clean air achievements (61.7 million metric tons of carbon dioxide, 1,070,000 tons of nitrogen oxides, and 43,000 tons of particulate matter emissions avoided) help to protect the well-being of citizens.
LTI, Inc./Milky Way became a SmartWay Transportation Partner in 2010. Sister company Lynden Transport became the first Alaska trucking company to join SmartWay in 2008, and Lynden companies Brown Line, LLC and Alaska West Express are also members.
Topics from this blog: LTI Inc. Green Lynden Milky Way trucking Bulk