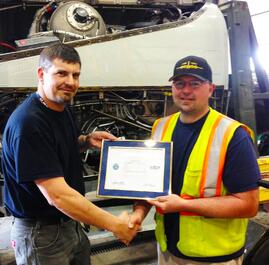 Lynden Air Cargo Senior Aircraft Mechanic James Martiny (left in photo) nominated Chris Diltz and Lynden Air Cargo for an award for supporting employees who are also National Guardsman and Reservists. The Office of the Secretary of Defense for Employer Support of the National Guard and Reserve agreed with Jim and issued a "Patriotic Employer" recognition plaque to Chris and Lynden Air Cargo this Spring.
The patriotic award recognizes individual supervisors and bosses for support provided to a member serving in the National Guard or Reserve. Employer support includes a wide-range of measures such as flexible schedules, time off prior to and after deployment, caring for families and granting leaves of absence if needed.
"Since Chris, and Lynden as a whole, supported me in fulfilling my Reserve Duty requirements I thought he deserved recognition," James says. "Also, Lynden has a track record of hiring veterans, which by my count, is approximately 66 percent of our Lynden Air Cargo maintenance staff." James is stationed at Elmendorf Air Force Base with the 477TH Fighter Group as a F-22 Raptor Crew Chief in the U.S Air Force Reserves.
"Being flexible with my guys that are in the Guard and Reserve seems like normal operating procedure to me," says Chris, Lynden Air Cargo Maintenance Manager. "They are taking the time in their lives to support our nation. I do my best to support them by being flexible with their schedules during their times of service."
Lynden Air Cargo also employs the following Guardsman and Reservists: Maintenance Mechanic Jeremy Leep, National Guard Powerplant Technician; Loadmaster Matt Haug, National Guard Pilot; and Pilot Tom Cubit, National Guard Crew Chief.
Topics from this blog: Awards Lynden Air Cargo Lynden Employees Government and Military