Lynden companies are customer-focused, but helping employees work smarter and safer is an ongoing goal as well. Last month LTI, Inc. Eastern Region Safety and Compliance Manager Allison Russell participated in hands-on research at the Milky Way Service Center in Sunnyside, WA with Han Kim from Labor and Industries (L&I). Han is an ergonomist representing L&I's Safety & Health Assessment and Research Prevention (SHARP) program and the Trucking Injury Reduction Emphasis Study (TIRES) division. Allison, along with Operations Manager Darrell Scott, Driver Joey Fayard, Dispatcher and former driver Robert Tripp and Vice President of Operations Bob Griggs spent two days working together at a Sunnyside dairy and in the Sunnyside yard to explore ways to work safer while hauling liquid bulk products.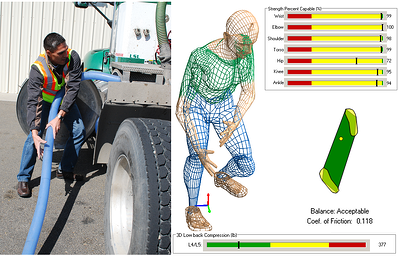 Darrell Scott, Jr. hooks up a milk hose at the Sunnyside Milky Way yard. His movements are mirrored on a computer program provided by Han Kim of Labor & Industries.

"We invited Han to Sunnyside to guide us in safety education and training," Allison explains. "Han's visit was to focus on best practices for tasks such as ascending and descending fixed ladders attached to milk trailers as well as pulling and carrying hoses."
The team wound milk hoses, simulated different workplace scenarios and "did a ton of pulling and winding," Allison says. "We discussed stresses on different body parts, low back stress, balance." LTI, Inc. will take this information and work with Han to develop training videos and educational tips on proper posture and injury prevention. LTI, Inc. and Milky Way have regularly scheduled safety and training meetings but this is one more valuable tool to add to the mix. "We value our employees and want them to be at their best each day while serving our customers. This is one more way to improve customer service," Allison says.
Lynden Transport has also worked with the TIRES group, most recently in Fife, WA. "We have been involved in several projects," says Trevor Lindberg, Safety & Loss Prevention Manager. "We were featured in safety poster photo shoots and research projects including forklift safety, load binders and safe working practices. We appreciate any opportunity we are given to help increase a focus on working safely, and were happy to participate."
Topics from this blog: LTI Inc. Milky Way trucking Lynden Employees Safety Lynden Transport