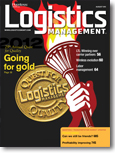 The Lynden family of companies was recognized as the best of the best by shippers and supply chain professionals this summer. Lynden was chosen as one of the Top 100 third-party logistics service providers (3PLs) and as a Green Supply Chain Partner by Inbound Logistics magazine. The company was also named one of the 100 Greatest Supply Chain Partners for 2012 by SupplyChainBrain magazine and as one of Transport Topics' Top 100 For-Hire Truck Carriers. Earlier this summer, Lynden Transport was voted the No. 1 Less-than-Truckload (LTL) carrier for the Western Region in Logistics Management magazine's annual Quest for Quality Awards.
The lists are compiled by surveys and polls of 3PLs and supply chain professionals. The Top 100 3PL Providers list is the result of editors soliciting questionnaires from more than 400 3PLs, detailing the services they provide and their areas of expertise. To make the Green Partner list, companies were required to show a deep commitment to green initiatives and supply chain sustainability.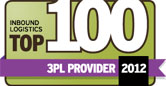 "Inbound Logistics selected Lynden as a 2012 Top 100 3PL Provider because of its successful track record in satisfying customers' needs to cut costs while delivering the operational efficiency required to compete on a global level," says Felicia Stratton, Editor of Inbound Logistics magazine.
"Positive feedback from customers is the most important measure of success," says Lynden President Jon Burdick. "Our family of transportation and logistics companies allows us to offer unique global multimodal services that set us apart from other 3PLs and competitors. We are pleased that we were included in the lists again this year and acknowledged for our ongoing efforts to work green. We are committed to helping our customers succeed in their own business endeavors and proud to be a part of the EPA's Smartway Transport Partnership to protect the environments where we do business."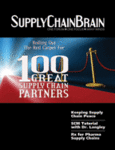 Inbound Logistics is the leading trade magazine targeted toward business logistics and supply chain managers. The magazine's editorial mission is to help companies of all sizes better manage corporate resources by speeding and reducing inventory, supporting infrastructure and better matching demand signals to supply lines. SupplyChainBrain is the world's most comprehensive supply chain management information resource. The magazine identifies emerging trends, technologies and best practices and reports on them as they evolve. Transport Topics' Top 100 is an annual survey of the largest for-hire and private trucking companies.
Topics from this blog: Awards Green Lynden Lynden Transport Project Logistics Multi-Modal