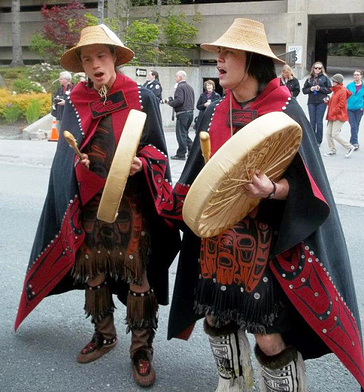 When he's not working on the docks at Alaska Marine Lines in Seattle, Darius Sanidad is singing and dancing in The Git-Hoan Dancers, led by world-renowned Tsimshian carver and culture bearer, David Boxley. The members of the group share a commitment to preserving cultural traditions once on the verge of extinction. The Git-Hoan Dancers are one of very few groups that use a wide variety of traditional articulated masks, drums, rattles and props to showcase this living art and culture to the world. The Dancers have traveled as far Washington D.C for shows and a ceremonial totem pole raising.
Recently Darius and his group traveled to Juneau for the annual Sealaska Cultural Celebration. "We helped the group out by donating the transportation of their van, masks, drums, props and regalia from Seattle to Juneau," says Dave Curtis, Alaska Marine Lines Vice President of Pricing."
"Thanks to everyone at Alaska Marine Lines for such a generous donation to our group. It not only saved us transportation costs, but on the chaos, headaches and worry of airline travel," says Michelle Sanidad, Darius' mother and Git-Hoan member. "Alaska Marine Lines is the best." Darius' father, Noehl, also works at Alaska Marine Lines.
Darius has been dancing since he can remember and joined the Git-Hoan Dancers in 2011. "We have 16 members including my mother, aunt, cousins and a nephew so it's a family gathering every time we perform," he says. "We make our own aprons, tunics, moccasins and drums out of buckskin and carve our masks from cedar and alder."
Git-Hoan means "People of the Salmon." To learn more visit the facebook page,
http://www.facebook.com/pages/Git-Hoan-Dancers/223326717684047.
Topics from this blog: Lynden Employees Alaska Community AML