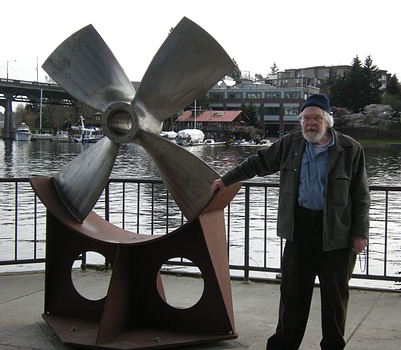 A 70-inch, 1,300-pound propeller from Bering Marine Corporation's Arctic Bear tugboat now graces Seattle's North Passage Point Park as a sculpture honoring the Seattle-Alaska maritime industry. The prop was one of a pair on the shallow-draft tug that was in service in Prudhoe Bay.
It's been a long journey from the day Bering Marine gifted the stainless steel prop to Naval Architect Philip Thiel and its installation at the park this spring. Philip, a University of Washington Professor Emeritus of Architecture, Urban Design and Planning, designed the base for the propeller and he planned to donate the prop to the parks department for use in the maritime sculpture.
Shortly after the prop was delivered to Philip's home in Seattle, thieves pulled up in a truck and stole it right out of the back yard. A Seattle TV station aired a story about the crime and the Seattle Parks Department issued a press release asking for the public's help to find the missing prop.
"Philip filed a police report, but we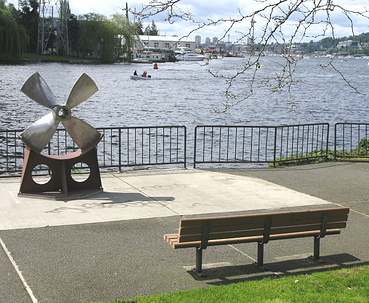 didn't hold out much hope," says Linda Hubert, Maintenance Manager for Seattle Parks and Recreation. "They were obviously thieves with some mechanical resources to nab a huge, heavy propeller inside a retaining wall and fence. Phil was broken-hearted." He offered a $1,000 reward to anyone with information about the crime. Police speculated that the thieves wanted the stainless steel propeller for its scrap metal value.
After the word got out, a security guard at an industrial park in Kent, WA discovered the stolen propeller and contacted the Kent Police Department. The propeller was transported back to the site and the sculpture was completed. The monument (above) includes a plaque identifying the Arctic Bear propeller and Bering Marine Corporation's donation.
Topics from this blog: Bering Marine Corporation United States Community