The Shorecrest High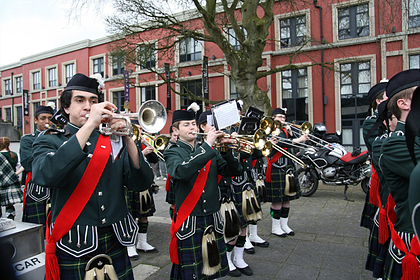 School Marching Band made its fifth trip to Ireland last March to play in Dublin's St. Patrick's Day Parade, and Lynden Logistics played a supporting role by making sure that 76 instruments and 15 boxes of uniforms made it to Dublin with the students. The band includes 100 musicians accompanied by bagpipers and dancers and keeping track of all the musical "baggage" was a big job, according to Senior Account Manager Kevin Adderson.
"We were very aware that this was a special trip for the students, staff and parents," he says. "They raised over $40,000 to go on the trip and the band was invited to play by the City of Dublin. Our Seattle team personally bought into the success of the project and knew it was a one-time shot. If we failed to get the instruments to Dublin on time, it would be a disaster for the school, the band, the parents and for the parade organizers."
Kevin started working on the move last fall when he received a call from Jim Zatloukal with the Washington Cultural Exchange. He says the biggest challenge was advance planning and then keeping the instruments together for shipping. "We had trumpets, bagpipes and a lot of odd-sized freight. We had to pick up the instruments at the school and get everything neatly boxed up and palletized to prevent damage while keeping costs down for the school. Our warehouse crew in Seattle and Dublin did a great job." Lynden also set up a special "carnet," or merchandise passport, to simplify the international customs process and eliminate duty tax on the 101 pieces traveling from the U.S. to Ireland and back.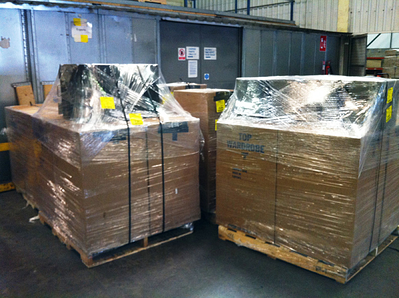 Approximately 101 pieces flew from Seattle to Prestwick Airport on a cargo plane and were then trucked from Prestwick Airport to Dublin Airport where they were processed and released to the band members. After the parade performance, the students stayed on in Dublin while the instruments and other pieces were repackaged by Lynden for the return flight.
"The uniforms and band equipment all arrived back at the high school ahead of schedule and in great shape," says Marc McCartney of Shoreline Schools. Shorecrest's bagpipe band makes it unique among American high schools. Marc reports that the group won three awards during their Ireland stay including Best International Band.
Topics from this blog: Lynden Logistics Air International 3PL