Lynden is known for supporting the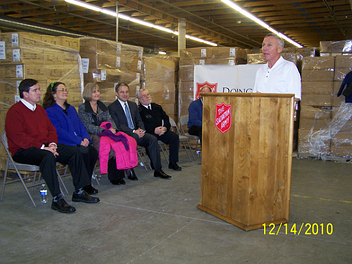 communities where it does business and Lynden Transport got a chance to illustrate this last month by partnering with customer Fred Meyer in a unique program to keep Alaska children warm this winter. Alaska Governor Sean Parnell and Anchorage Mayor Dan Sullivan were on hand for a press event last December at the Salvation Army warehouse to kick off an event to give away $100,000 worth of coats to kids throughout Alaska. Freddy's Coats for Kids is a unique partnership between Fred Meyer, the Salvation Army and Lynden Transport. Fred Meyer is donating 10,000 coats and 2,000 pair of snow pants, the Salvation Army is finding children in Alaska who need them most and Lynden Transport is donating the transportation of the clothing from the Fred Meyer warehouse in Chehalis, WA to Anchorage, the Mat-Su Valley, Fairbanks, Kenai and Juneau. "This is a very worthy cause and helped a lot of Alaska's needy children. Fred Meyer asked for our help with their project and, like a good neighbor, we answered the call," says Jim Beck, President of Lynden Transport.
(Above): Lynden Transport President Jim Beck speaking at the press conference in the Salvation Army warehouse. Left to right, Anchorage Mayor Dan Sullivan, his wife Lynnette, Sandy Parnell next to her husband Gov. Sean Parnell and Major George Barker, head of the Alaska Salvation Army.
Topics from this blog: Lynden Transport Alaska Community