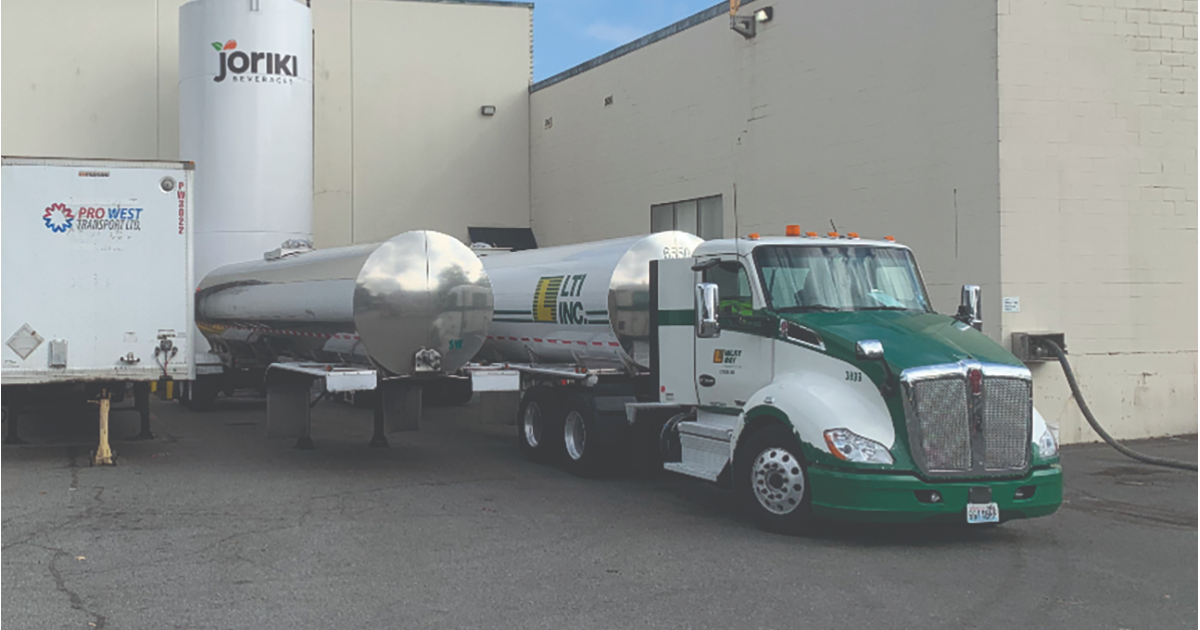 Rhubarb juice and oat milk have joined canola oil and whiskey in LTI, Inc.'s growing list of special commodity hauls. Since March, LTI, Inc. Sunnyside drivers have picked up oat milk from Ogden, UT and delivered it to Delta, B.C. for Oatly. "The Oatly brand is international, available at retail stores and is used at Starbucks locations across the U.S.," explains Marcos Bustamante, Sunnyside Operations Manager.

Around 35 miles away, in Abbotsford, B.C., LTI, Inc. drivers are on the job picking up rhubarb juice for delivery to a winery in Hill City, South Dakota. "International projects like this require collaboration between Sunnyside and LTI, Inc.'s Mount Vernon group to deliver the products across the border," says Greg Masset, Sunnyside Dispatch. Drivers Chad Haarsma and Jonathon Harshfield haul the juice from the plant in Canada to Sunnyside, where Jerome-based team drivers pick it up and deliver to the winery in South Dakota.

Drivers sometimes deal with unplanned same-day load add-ons, but "luckily, we have great drivers that always come through for us and understand how important it is to take care of our customers," Marcos says. "Our success wouldn't be possible without the help of all the other Service Centers and our great drivers. I especially want to thank the Sunnyside dispatch team and special commodities team for the great job they have been doing."

Marcos says LTI, Inc. is always looking for other food-grade products to carry. "Our canola oil business has grown with the addition of a new customer called Viterra that has led to Sunnyside investing in special trailers dedicated to hauling oil," he says.

Drivers supporting the oat milk project include: Guadalupe Bustamante, Brandon Call, Pablo Valdes-Medina, Jose Rivera, Mark Nickerson, Jose Gonzalez Vargas and Scott Scherzinger.